Europe
Iran
Middle East
Iran starts drilling work at gas field abandoned by energy giants
Iranian domestic energy companies have started drilling for natural gas at a major gas field in the Persian Gulf where operations had stalled indefinitely two years ago after foreign energy giants left the filed under US pressure.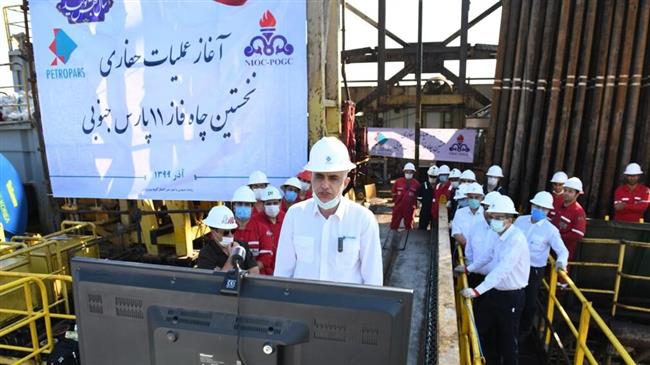 Iran's Oil Ministry's news service Shana said in a Monday report that drilling work on a first well at Phase 11 of the South Pars started earlier in the day during a ceremony held via video conference at the ministry headquarters in Tehran.
China's CNPC, the second largest stakeholder in the development project, also withdrew later under similar excuses.
That forced Iran to award the entire project to the minority shareholder Petropars, a major Iranian energy company with years of experience in oil and gas development projects.
The MD-1 rig, manufactured by Iran's energy construction company MAPNA, had been installed on the location on Phase 11 of South Pars on November 6, said the report by Shana.
It added that a total of 12 wells are to be dug at Phase 11 with a batch of five planned for a first round of drilling. Total production from the wells would amount to 1 billion cubic foot of gas (28 million cubic meters), said Shana.