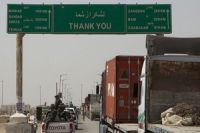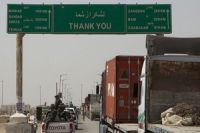 Iran has stressed the importance of peace and stability in Afghanistan, stating that Kabul plays a key role in promoting bilateral and regional trade.
Iranian Deputy Foreign Minister for Asia-Pacific Affairs Abbas Araqchi in a joint statement issued following a meeting with Afghan Deputy Foreign Minister for Political Affairs Ershad Ahmadi on Tuesday, said: "A peaceful and stable Afghanistan can play an efficient role in the promotion of trade and the transit of goods between the two countries and in the region."
Araqchi said Iran backs the Afghan peace process led by the Kabul government and based on the Afghan constitution.
The United States and its allies invaded Afghanistan in 2001 as part of Washington's so-called war on terror. The offensive removed the Taliban from power, but the country is still grappling with insecurity.
In the joint statement, the Iranian and Afghan sides emphasized that Iran and Afghanistan would not allow their territories to be used for any possible threats against one another.
They also urged closer cooperation in fighting terrorism, extremism and narcotics.