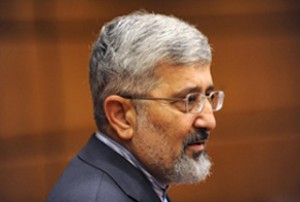 Iran has submitted a letter to the International Atomic Energy Agency, criticizing its latest report on Tehran's nuclear energy program.
Iran's ambassador to the UN nuclear watchdog, Ali-Asghar Soltanieh, says he sent the letter to IAEA Director General Yukio Amano.
The latest IAEA report on Iran's nuclear program is unbalanced, Soltanieh said on Wednesday during an IAEA session on technical issues.
Soltanieh also raised a series of questions during the meeting.
The ambassador said it was confirmed that Iran has fully cooperated with the agency on the issue of uranium enrichment.
During the meeting, the deputy director of the IAEA acknowledged that Iran had fulfilled all the requirements of the Nuclear Non-Proliferation Treaty.
In the nine-page report, the IAEA has covered the very recent developments regarding Iran's nuclear work, including enrichment and reprocessing activities, but failed to mention the recent Tehran declaration signed by Iran, Turkey, and Brazil, which called for a nuclear fuel swap to provide fuel for the Tehran research reactor.
On Tuesday, Soltanieh told Press TV that Iran was surprised to see that the report had not mentioned the Tehran declaration.