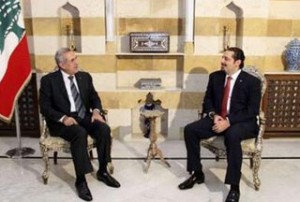 Iran has stressed that it will not spare any effort to support Lebanese Prime Minister-designate Saad Hariri in forming a national unity government.
After a meeting with Hariri on Thursday, Tehran's ambassador to Beirut Mohammad-Reza Sheibani said that Iran considers successful the designation of Hariri to establish the unity government.
"Since the first moment Hariri was designated to form the cabinet, I expressed … Iran's official stance about that choice being successful … and appropriate," the ambassador Sheibani added that he wished Hariri 'luck and success in this grave and sensitive responsibility laid on his shoulders.'
During the meeting, the Iranian envoy also expressed hope that the national unity government would be formed 'as soon as possible'.
Hariri, whose March 14 Alliance won a parliamentary election in June, has vowed to form a unity government to overcome the challenges facing Lebanon.