Iran
Middle East
Syria
Iran-Syria relations serve as model for others: Mekdad
Syria's Foreign Minister Faisal al-Mekdad says his country's relations with Iran have reached such a status that can "serve as a model" for other countries "in all areas."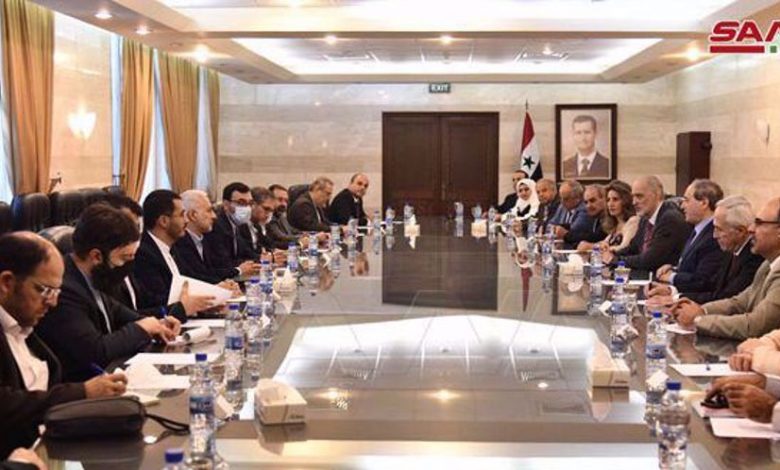 The top diplomat made the remarks during a meeting in Damascus on Thursday with Vahid Jalalzadeh, chairman of Majlis (the Iranian parliament)'s Committee on National Security and Foreign Policy, and his accompanying officials.
Jalalzadeh is in the Syrian capital as part of a delegation headed by Parliament Speaker Mohammad-Baqer Qalibaf, which arrived in the Arab country on Tuesday.
Mekdad identified the support provided by the Iranian people, leadership, and lawmakers for Syria's resistance and efforts to invigorate itself in the face of the terrorist war that it has been facing for years, as "a source of pride for the government in Damascus."
Damascus, in turn, backs Tehran in the face of all the efforts that were aimed at playing down the achievements that have been made by the Islamic Republic since the 1979 victory of Iran's Islamic Revolution, the Syrian official said.
"The Syrian people are certain about Iran's strength to put all the problems and the imposed economic sanctions behind," he noted. "The Syrian nation also defends Tehran's positions and policies concerning the nuclear issue," Mekdad added.
The meeting addressed the issue of the countries' bilateral relations and the available means of their further expansion in the face of existing challenges.
Jalalzadeh, for his part, noted that the countries' relations date back to years before the war that was imposed on the Arab country.
The ties were based on cooperation, coordination, and mutual support in all areas, he said, underlining the part played by the countries' parliaments in further development of the relations.
Speaking after the meeting, the Iranian official also described the meetings that had taken place with Syrian officials so far as constructive, and said the meetings bore promises for further reinforcement of the relations.
"No one can [adversely] affect Tehran and Damascus' relations," Jalalzadeh noted.
Iran has been providing economic, political, and military advisory support for Syria in the face of around a decade of foreign-backed violence.
The advisory assistance helped the Arab country defeat the Takfiri terrorist group of Daesh in late 2017.
The volume of the Islamic Republic's exports to Syria amounts to some $1 billion each year. The countries' ties are now focused on helping Syria rebuild itself and recover faster from the fallout of the foreign-backed war.