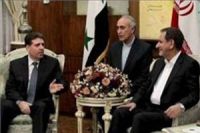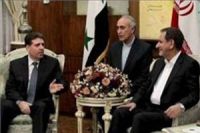 The Iranian and Syrian officials in Tehran on Saturday discussed regional issues and reviewed ways to further consolidate bilateral relations.
According to IRNA, Iran's First Vice President Eshaq Jahangiri and the visiting Syrian Prime Minister Wael Nader Al-Halqi conferred on ways to bolster cooperation and exchanged views on the latest developments in the region.
Al-Halqi is in Tehranon his sixth visit to meet and confer with the senior Iranian officials.
Upon his arrival in Tehran on Friday, he said he is carrying the message of Syrian government and nation to Iran for its recent achievement made in nuclear talks in Geneva.
He also said that he is in Tehran to review regional issues with the Iranian officials and consolidate ties with Tehran.
A number of ranking Syrian officials including ministers of oil, foreign affairs, electricity, health and protocols are accompanying the prime minister during his visit.