Economy
Iran
Middle East
Iran, Tajikistan to use local currencies for bilateral trade: Minister
Iran and Tajikistan have agreed to use local currencies for bilateral trade as they seek to increase economic and energy cooperation despite American sanctions imposed on Tehran.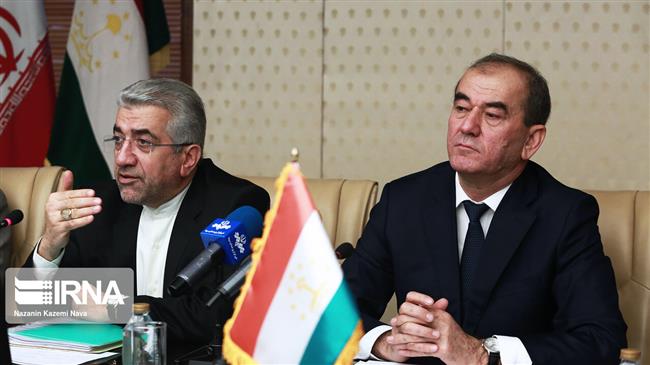 "Based on the agreements reached between Iran and Tajikistan, financial exchanges between the two countries in future will be carried out in national currencies," said Iran's Minister of Energy Reza Ardakanian on Tuesday after a meeting with his Tajik counterpart Usmonali Yunusali Usmonzoda in Tehran.
Ardakanian also said that economic and energy cooperation between Iran and Tajikistan was growing like never before, mainly as a result of sanctions which have caused Iran to focus more on investment and export opportunities in nearby countries.
"Maybe if the sanctions did not exist, we would not dedicate so much time and energy to regional issues and the neighbors," said the Iranian minister who has led Iran's efforts to expand trade relations with countries to the north, especially in the Eurasia region.
The comments come as Tajikistan is trying o secure Iran's technical and financial support for construction of a major hydroelectric dam in the country.
Syndicate member says electricity-rich Iran should have exports increasedA syndicate member says electricity-rich Iran should move to increase its exports to the neighbors.
Estimates suggest that Tajikistan possesses around 15 percent of the global hydroelectric capacity. The country is hoping the Iran, a country known for its massive electricity industry, could be of great help in construction of projects that could both respond to the domestic demand and facilitate exports to neighboring countries like Afghanistan and Uzbekistan.
Ardakanian insisted that growing energy cooperation with countries in the Central Asia region was effectively a byproduct of the American sanctions.
"Despite all difficulties and hardships that sanctions have created, (it) has had the benefit and the advantage that we have … collaborated more actively with the neighbors and countries in the region to make optimum use of opportunities and resources," he said.