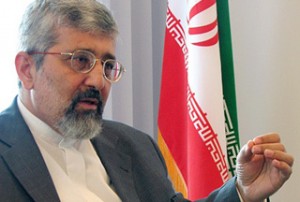 Iran says the International Atomic Energy Agency (IAEA) had set no deadline for responding to the draft of the nuclear fuel agreement discussed in Vienna.
"There was no deadline. [IAEA Chief Mohamed] ElBaradei just asked the participating countries to announce their decision on the draft by Friday. It was just a request," Iran's envoy to the watchdog Ali-Asghar Soltaniyeh said in a Saturday interview.
On Friday, Soltaniyeh informed the Agency that Iran wants to examine the draft of the agreement more closely before giving its final answer.
In a Friday statement, the IAEA said that Iran needs more time to consider a nuclear fuel agreement the watchdog drew up following last week's talks in the Austrian capital between diplomats from Tehran, Washington, Paris and Moscow.
"[Iran is] considering the proposal in depth and in a favorable light, but it needs until the middle of next week to provide a response," the IAEA said in a statement.
"The Director General [Mohamed ElBaradei] hopes that Iran's response will equally be positive, since approval of this agreement will signal a new era of cooperation," it added, indicating that the other side had accepted the deal.
The agreement concerns the purchase of fuel for the Tehran nuclear reactor, which produces medical radioisotopes for therapeutic and diagnostic procedures.
Tehran plans to buy the 20 percent enriched uranium that the reactor needs to run from one of the three states.
Iran's enrichment facility in the central city of Natanz processes uranium up to 3.5 percent for use in nuclear power generation plants.