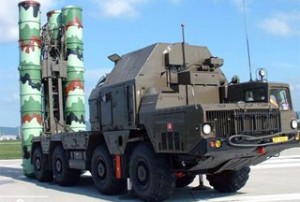 Iran plans to manufacture long-range missiles due to the 'prolonged' delay in the delivery of Russian-made S-300 air defense systems, a top Iranian military official says.
Brigadier General Mohammad Hassan Mansourian said the initial information about the army's plans to manufacture of long-range missiles will soon be announced.
He added that the longest-range Iranian missile is presently the surface-to-air, medium-range Shahin missile, which can also be used for short-range purposes.
"Iranian industries have made considerable progress in electronic warfare and designing radars," said Brig. Gen. Mansourian.
The S-300 missile system can track targets and fire at aircraft within a range of more than 150 km (100 miles). It features high jamming immunity and is able to simultaneously engage up to 100 targets.
The Iranian military commander added that every conceivable operational demand had been taken into consideration in planning to manufacture the new long-range missiles.