Iran
North America
Iran to give strongest response to US if its security at stake: Top general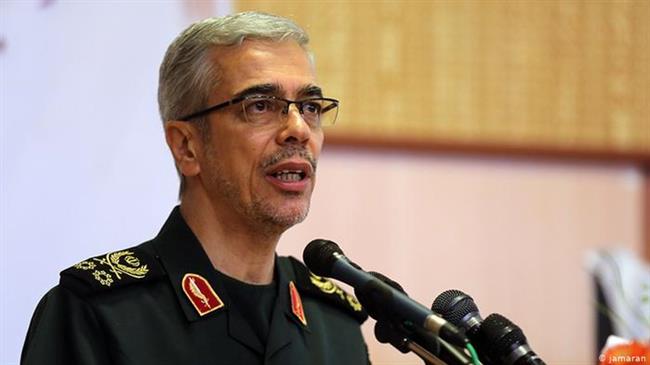 The chairman of the Chiefs of Staff of the Iranian Armed Forces says the country will show the most severe reaction to the United States if it does anything to undermine the security of the Islamic Republic.
"If [Americans] take the smallest step against the security of our country, they will be faced with the most severe reaction," Major General Mohammad Baqeri said on Thursday in allusion to recent steps taken by the US military in neighboring Iraq, which have been seen by many experts as a prelude to a possible US attack on Popular Mobilization Units (PMU) in the Arab country.
"The recent days have witnessed an increase, to some extent, in the US' military activities across Iraq and the Persian Gulf," he said.
"On the psychological and media fronts too, they (Americans) are engaged in massive dissemination of news denoting that they have plans against resistance groups in Iraq and Hashd al-Sha'abi," the Iranian general said in reference to the PMU anti-terror fighting force by its Arabic name, adding, "We are completely monitoring such activities".
On Wednesday, US President Donald Trump claimed that Iran was about to launch an attack on US troops or American "assets" in Iraq, waring, "If this happens, Iran will pay a very heavy price, indeed."
US threatens Iran by citing baseless allegations involving Iraq
The United States is continuing threats against Iran even as the country battles the coronavirus pandemic despite Washington's illegal sanctions.
Meanwhile, an Iraqi security source said a group of US troops had withdrawn from al-Taqaddum Air base in al-Anbar, and moved to Ain al-Assad Air base in the western Iraqi province. There have been other reports that US forces are handing over more military bases to Iraqi forces and taking their troops to more secure facilities elsewhere in Iraq.