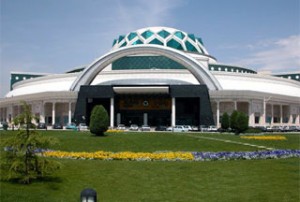 Iran is expected to launch its second trade center in overseas markets by February, says an Iranian economic official.
Hamid Zadboum, an official with the Trade Promotion Organization of Iran, said the center would become operational on January 26, 2010 in Oman.
In November 2009, Iran opened its first overseas-based commercial center in Shanghai.
Zadboum added that some 60 Iranian companies would operate from the proposed center located in the Persian Gulf littoral state of Oman.
The Iranian government has allocated one billion dollars in loans to set up 20 trade centers across the world.
"Tehran aims to promote its economic and commercial capabilities by launching the trade centers," deputy of the Iran Chamber of Commerce, Industries and Mines Mohammad Davaei said.
He added that President Mahmoud Ahmadinejad had approved funding a one-billion-dollar loan for the project.
Davaei revealed that Iran has started the construction of two centers in Sudan and Azerbaijan.
He predicted that the completion of each project would take about two-three years.