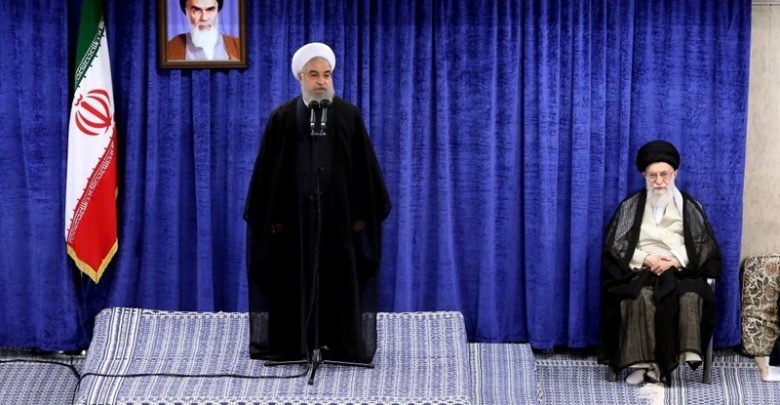 "We will undoubtedly pass this stage with people's resistance and steadfastness, and better management and planning," Rouhani said at a meeting of the heads of the country's executive, judiciary, and legislative branches as well as other senior officials, parliamentarians, and important figures in the country's political, social, and cultural spheres with Leader of the Islamic Revolution Ayatollah Seyed Ali Khamenei in Tehran on Tuesday.
Last Iranian year was a hard year for the people of the country, especially in terms of their livelihoods and economic pressures, he said.
"If we can exercise more monitoring on imported goods, we can reduce people's problems and overcome the sanctions," the president added.
He further pointed to the US administration's plot to cut Iran's oil exports down to zero and said, "We can replace oil incomes with non-oil ones."
"With their miscalculations, the Americans thought they could bring the great Iranian nation to their knees, and they designated dates for this, but the people of Iran stood powerfully with steadfastness".
"Today, the enemies are working hard, sending their fleet in the morning, and giving a phone number in the evening. Of course, we have many phone numbers from them," he stated.
"Today, we are facing a great divine test, and will undoubtedly pass this stage with resistance and steadfastness," Rouhani said.
The remarks came as US President Donald Trump said on Thursday that he was ready to speak with Iranian leaders and come to an understanding that would allow the country to improve its economic prospects. "What I'd like to see with Iran, I'd like to see them call me."
"I look forward to the day where we can actually help Iran. We're not looking to hurt Iran," Trump added.
Iran's Supreme National Security Council (SNSC) issued a statement last Wednesday, saying Iran is no longer fulfilling some of its obligations under the 2015 nuclear deal, and setting a two-month deadline for the remaining parties to fulfill their undertakings.
"At the current stage, we are not committed to complying with restrictions on the keeping enriched uranium reserves and heavy water supplies," the SNSC stated.
The statement came a few days after the US administration renewed five of seven sanctions waivers that allow Russia and European nations to conduct civilian nuclear cooperation with Iran but revoked the other two as part of its pressure campaign against Tehran.
Washington also stopped issuing waivers to buy Iranian crude oil on May 2.
Before the US moves, Iranian officials, including Foreign Minister Mohammad Javad Zarif and Chief of Staff of the Iranian Armed Forces Major General Mohammad Hossein Baqeri, had warned against their consequences.
On May 8, 2018, Trump pulled his country out of the Joint Comprehensive Plan of Action (JCPOA).
Following the US withdrawal, Iran and the remaining parties launched talks to save the accord.
The European Union has vowed to counter Trump's renewed sanctions on Iran, including by means of a new law to shield European companies from punitive measures, but it has so far failed to do anything beyond making statements.