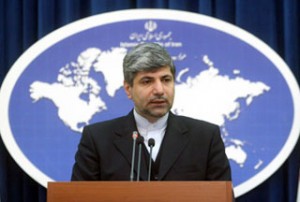 After the imposition of fresh sanctions on Iran, Tehran says it will send letters to UN Security Council states to protest the "illegal" approach by the UN body.
"Iranian Foreign Minister Manouchehr Mottaki will send letters to all member countries of the Security Council to voice Iran's objection to the illegal approach in issuing the resolution and to express Iran's stance on the case," Foreign Ministry Spokesman Ramin Mehmanparast said on Tuesday.
"This carrot-and-stick policy is wrong and will bear no fruit," he added.
The spokesperson also reiterated that negotiations on Iran's nuclear program would be possible only within a logical framework.
Mehmanparast also reacted to an invitation offered by EU foreign policy chief Catherine Ashton to hold talks with Iran's chief nuclear negotiator Saeed Jalili on Tehran's nuclear issue, saying, "Since Ashton expressed willingness to negotiate with Iran, she had a three-month chance but she missed this opportunity."
She seemed to have other priorities than talking with Jalili, the spokesman said, adding, "However, Iran is still considering her request."
Ahead of an EU summit in Brussels on Thursday, Ashton invited Jalili to discuss Iran's nuclear program.
"I have written to Mr. [Saeed] Jalili… inviting him to meet with me to now discuss nuclear weapons issues," Ashton said upon arrival in Luxembourg for talks with EU foreign ministers, AFP reported.
Mehmanparast added that the Iranian nation seeks to protect its rights to use nuclear energy for peaceful applications, stressing that Iranians will not tolerate any limitation to the nuclear drive.
According to Mehmanparast, the recent resolution by the Security Council made the Iranian nation even more determined to achieve its rights.
On June 9, the Security Council adopted a resolution imposing a fourth round of sanctions on Iran over its nuclear program.
Tehran rejects Western accusations that it intends to develop nuclear weapons, and has repeatedly asserted that Iran's nuclear capabilities are only aimed at peaceful purposes such as the development of the country's energy and medical infrastructure.