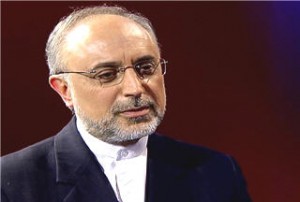 Iran's nuclear chief says sanctions will not stop the country's nuclear energy program, while stressing that Tehran is for dialogue on the issue.
Speaking to CBS News correspondent Elizabeth Palmer in Tehran, head of the Atomic Energy Organization of Iran (AEOI) Ali Akbar Salehi also rejected US accusations that Tehran was seeking nuclear weapons.
The remarks came amid stepped-up US efforts to garner international support for tougher sanctions against Iran in the UN Security Council.
Iran, a signatory to the Nuclear Non-Proliferation Treaty (NPT), says its nuclear program is solely for peaceful purposes. The West, however, accuses the country of seeking to develop an atomic bomb.
"Of course sanctions will affect us," Salehi said. "But it only will delay our projects. It will not stop our projects … then we will have to come up with our own manufacturing systems."
The nuclear chief announced on Sunday Iran would soon start mass-producing second generation centrifuges which are thrice as fast as the ones operating in the Natanz uranium enrichment plant.
Asked whether Iran was trying to make any kind of weapon, Salehi said, "No. We have indicated this many times; not [just] me, our president, our Leader. It's against our tenets. It's against our religion."
He further stressed that Iran had done its part in building confidence regarding its nuclear program and said it was now the West's turn to accept Iran's condition for a nuclear fuel swap deal.
A UN-backed proposal had envisaged that the fuel for the research reactor be provided by an international consortium in exchange for Iran's low enriched uranium.
However, the proposal, although still on the table, is facing many obstacles as the West has failed to provide Iran with guarantees that the fuel will be actually delivered.
"They can create trust by making the fuel swap and then return to negotiations without any conditions, without any prior conditions on equal par," Salehi said.