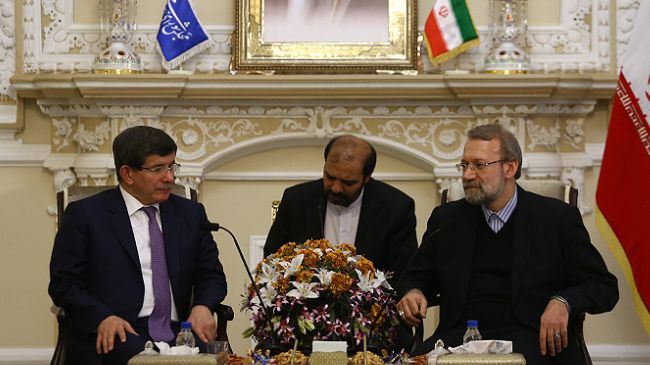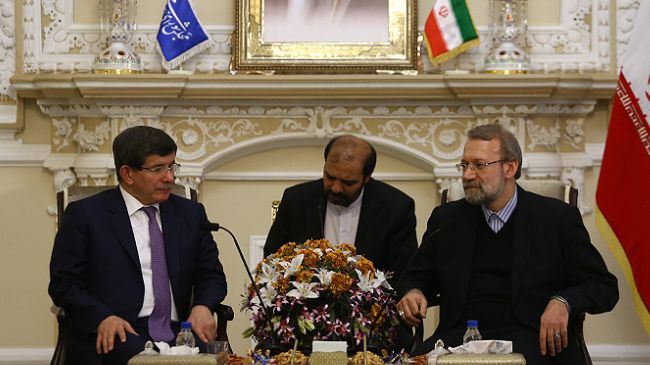 The Iranian Majlis Speaker says Iran and Turkey enjoy high statuses in the region and in the Muslim world, adding that the two neighboring countries can forge closer cooperation to address problems.
"Iran-Turkey cooperation can contribute to the resolution of many of the problems currently facing the region and the Islamic world," Ali Larijani said in a meeting with Turkish Foreign Minister Ahmet Davutoglu on Wednesday.
The Iranian official praised Tehran-Ankara relations as amicable and deep-rooted, adding that the Iranian nation and government hold a positive view of Turkey.
Larijani expressed satisfaction over the growing trend of the ties between the two countries in different sectors, especially in those of economy and trade, calling for the further expansion of mutual relations.
Davutoglu, for his part, said that Iran and Turkey should continue to hold regular and constant consultations given the significance and complexity of the regional developments.
Iran and Turkey share common ground on many issues facing the region and the Islamic world, said the Turkish official, adding that the two sides need can bring their positions closer together through negotiations.
Should Iran and Turkey fail to jointly work out solutions to regional problems, Davutoglu said, transregional elements will impose their pro-Israeli approaches on the region.
The Turkish foreign minister also said Tehran and Ankara should raise their mutual trade to USD 100 billion within the next five years.