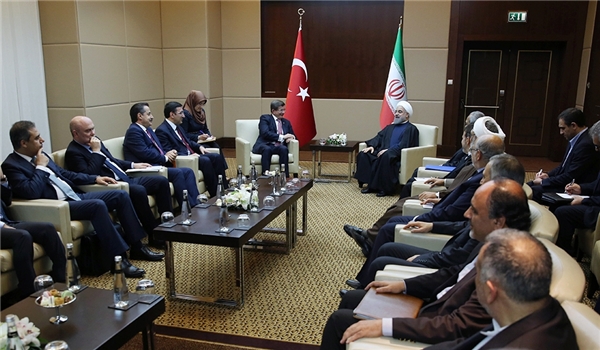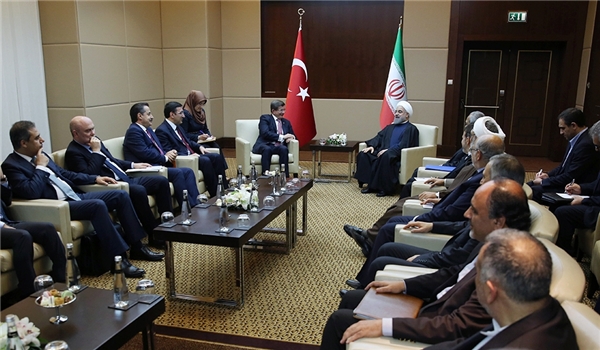 Iranian President Hassan Rouhani and Turkish Prime Minister Ahmet Davutoglu in a meeting in Ankara underscored the necessity for the further expansion of trade relations between the two countries as the two neighbors are due to sign 8 economic and political agreements.
During their meeting on Friday night, President Rouhani and Davutoglu underlined increased cooperation in the banking, customs, trade and investment fields.
They also discussed the latest regional developments.
President Rouhani is also due to meet his Turkish counterpart Recep Tayyip Erdogan later today.
Tehran and Ankara will sign 8 documents during Rouhani's visit to further develop the two countries' political, economic and cultural relations.
Iran and Turkey have been pursuing increasing widening of their ties in various fields in the last two decades. Iran is a main energy supplier to Turkey and Ankara has made huge investments in Iran.
Last month, Iranian First Vice-President Eshaq Jahangiri called for the further expansion of bilateral ties with Turkey, and underlined that the two countries should increase their trade balance to $30 billion in the near future.
"A suitable roadmap should be drawn up for expansion of Iran-Turkey relations so that volume of bilateral commercial and economic transactions will be upgraded to $30 billion a year in a short period of time," Jahangiri said, addressing a joint meeting of Iranian and Turkish traders, also attended by visiting Davutoglu, in Tehran.
He went on to say that Iran and Turkey are important, great and influential countries in the region.
"Iran and Turkey hold good and growing relations and can have positive and constructive impact on destiny of the region, specially in a juncture that the world of Islam faces many problems. Tehran-Ankara cooperation can play an important role in settlement of the problems," Jahangiri added.
He also said that good accords were reached between the two countries and they had made good decisions in various domains, including oil and gas, customs, banking and tourism cooperation.
Jahangiri urged the Turkish tourists to travel to Iran, and said Tehran wants Turkish financiers to invest in tourism in Iran and build hotels and be active in other tourism infrastructures.