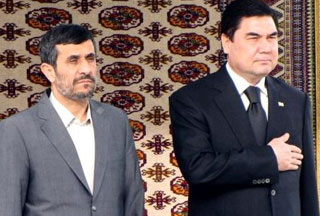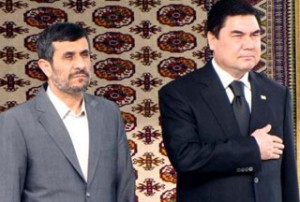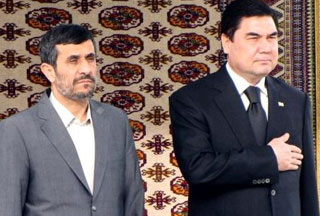 Iranian President Mahmoud Ahmadinejad and Turkmen President Gurbanguly Berdymukhammedov have called for the expansion of ties between the two neighboring countries.
During their talks in Ashgabat on Tuesday, the two presidents stated that their countries have the same approach to regional and international issues.
"Relations between Iran and Turkmenistan have historical, cultural, and religious roots," the Fars news agency quoted Ahmadinejad as saying in the Turkmen capital.
"The level of trade ties between Iran and Turkmenistan has reached $3 billion, but this is not yet an acceptable number and the two countries have much greater potential than that," he added.
The Iranian president noted that the level of trade ties between the two countries could hit $10 billion over the next five years.
Berdymukhammedov said that Iran and Turkmenistan have the same approach to regional and global issues, and the two countries support each other's policies in the international arena.