Iranian Foreign Ministry Spokesman Saeed Khatibzadeh underlined the importance of maintaining peace and stability in Jordan after the recent developments in the country.
Khatibzadeh described any internal tension and instability in West Asian region as beneficial to Israel, and said, "The footprints of the regime is always seen in any sedition in the Islamic states."
He underscored Iran's good ties with Jordan, and said, "The Islamic Republic of Iran is opposed to any internal instability and foreign interference and believes that all internal affairs of countries should be pursued within the framework of law."
His comments came after the half-brother of Jordan's King Abdullah II said he has been placed under house arrest and accused the kingdom's "ruling system" of corruption, incompetence and harassment.
Prince Hamzah bin Al Hussein's videotaped statement on Saturday came after Jordan's military denied reports of the former crown prince's arrest, but said he had been asked to "stop some movements and activities that are being used to target Jordan's security and stability".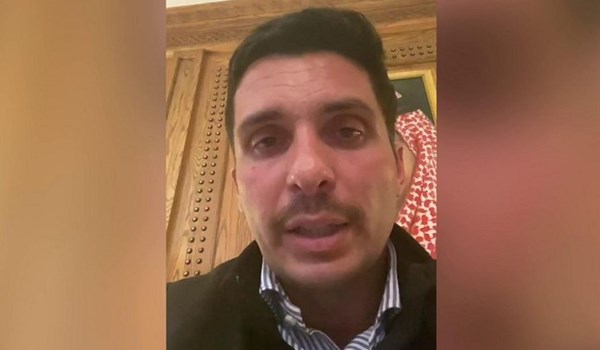 The military said the warning to Prince Hamza was part of a broader, continuing security investigation in which a former minister, a junior member of the royal family and unnamed others were detained.
The prince, however, insisted he was not part of any conspiracy and said in a video passed to the BBC by his lawyer that he "was not allowed to go out, to communicate with people or to meet with them".
Prince Hamzah said he had been informed he was being punished for taking part in meetings in which the king had been criticised, though he said he was not accused of joining in the criticism.
People were no longer allowed to criticise the authorities or express an opinion "without being bullied, harassed or threatened," he said, adding that the well being of Jordanians "has been put second by a ruling system that has decided that its personal interests, financial interests, that its corruption is more important than the lives and dignity and future of the 10 million people who live here".
Earlier, army chief Yousef Huneiti denied reports the prince had been arrested but said he was told to "stop activities that are being exploited to target Jordan's security and stability".
He said an investigation is continuing and its results will be made public "in a transparent and clear form".
"No one is above the law and Jordan's security and stability are above all," he told the official Petra news agency.
Two people familiar with the situation told the Reuters news agency that security forces had arrived at the prince's small palace and begun an investigation. King Abdullah dismissed Prince Hamza as heir to the throne in 2004 in a move that consolidated his power.
Petra had earlier reported that Sharif Hassan bin Zaid, a member of the royal family, and Bassem Ibrahim Awadallah, a former head of the royal court, were detained. Awadallah also previously served as planning minister and finance minister and has private business interests throughout the Gulf region.
The agency did not provide further details or name the others who were arrested.
The Washington Post, citing a senior Middle Eastern intelligence official, said as many as 20 people were arrested. The detentions were part of an investigation into an alleged plot to unseat King Abdullah, it said.