Iran
Iraq
Middle East
Qasem Suleimani
Iran underscores follow-up of Rouhani's historic visit to Iraq
Iran's Foreign Minister Mohammad Javad Zarif has underscored the need for a complete implementation of the memoranda of understanding that were signed during President Hassan Rouhani's historic visit to Iraq last year.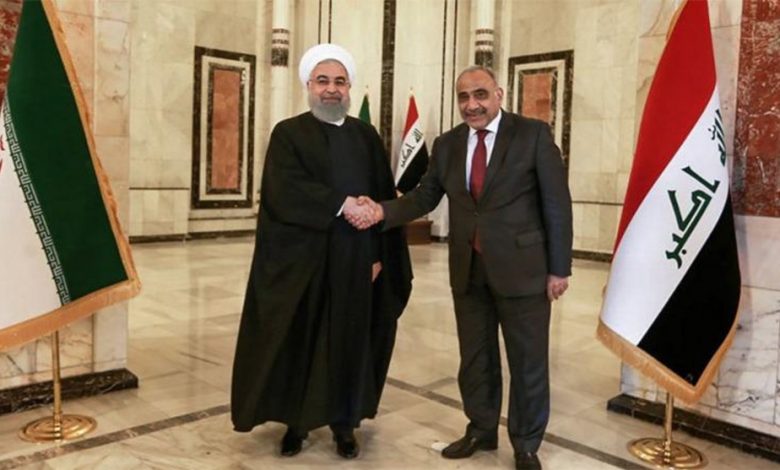 Speaking to his Iraqi counterpart Fuad Hussein on telephone on Sunday, Zarif underlined the importance of the efforts that were being made by both countries towards the enhancement of their ties.
The Iranian top diplomat, accordingly, urged attention to the five MoU's that were signed between Tehran and Baghdad last March as the Iranian president was visiting the Arab country to further solidify their strategic ties.
The MoU's were signed by senior Iranian and Iraqi officials in the presence of Rouhani and former Iraqi prime minister Adel Abdul-Mahdi in Baghdad on March 11, 2019. They targeted the expansion of bilateral cooperation in the fields of trade, healthcare, and oil industry.
The visit also featured an agreement on the construction of a railroad link between the Iranian city of Shalamcheh and the Iraqi port city of Basra, as well as the issuance of visas for the two countries' citizens free of charge.
Rouhani's trip had assumed especial significance due, on the one hand, to its being the first visit that was being paid by Iran's chief executive to the Arab country since 2013. The state visit was, on the other hand, deemed crucial in the advancement of bilateral ties amid the United States' intensive efforts to curb the Islamic Republic's regional influence and adversely affect the two neighbors' relations.
The US has a long history of trying to use Iraq as a direct or indirect staging ground for its adversarial policies against Iran.
It heavily armed Saddam Hussein's regime during the former Iraqi dictator's 1980-88 war on Iran.
Washington still never ceased to target Tehran's ties with Baghdad after it invaded the Arab country at the head of its allies in 2003 and deposed Saddam. It followed up the invasion by setting up numerous outposts throughout Iraq and providing protection for members of the Mujahedin-e-Khalq Organization (MKO) anti-Iran terrorist cult in the Arab country.
Tehran and Baghdad have, however, been continuously backing each other up against Washington's destructive efforts.
In 2014, Iran began lending successful military advisory assistance to Iraq in the face of the Daesh Takfiri terror group that had emerged amid the chaotic aftermath of the US-led invasion.
In early January, the Iraqi parliament ratified a law mandating full withdrawal of all US-led forces. The legislation was put to vote after the US assassinated senior Iranian anti-terror commander Lieutenant General Qassem Soleimani and others in a drone attack against Baghdad in its gravest action yet to target the Islamic Republic's interests in the Arab country.