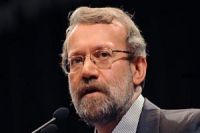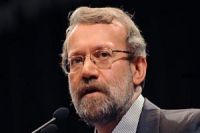 Iran Majlis (parliament) Speaker Ali Larijani has reiterated the Islamic Republic's call for peaceful reforms in the crisis-hit Syria.
Larijani said on Tuesday on the sidelines of his meeting with Iraqi Shia clerics in the holy city of Najaf, "The Islamic Republic believes that the Syrian reforms should be carried out under a peaceful and calm atmosphere".
He added, "The Syrian issue is a bitter incident for the entire region and the supply of arms by certain governments [to Syrian militants] has caused a lot of problems for Syria".
Larijani also stated that the Islamic Republic favors security and stability in its neighboring Iraq.
He said, "Establishment of security and stability in Iraq is a critical and significant issue and it is demanded by the Islamic Republic as well"
Larijani is currently in Iraq to hold talks with Iraqi officials on bilateral economic and political relations as well as international issues.
Heading a parliamentarian delegation, Larijani left Tehran on Tuesday for a three-day visit to Iraq upon the invitation of Iraqi Parliament Speaker Osama al-Nujaifi.
Iran's Majlis speaker is scheduled to hold talk with senior Iraqi officials including Prime Minister Nouri al-Maliki.