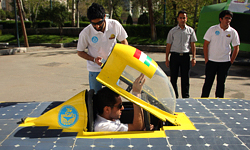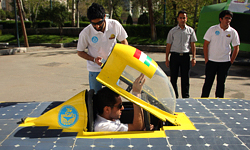 Iran on Sunday unveiled the country's third solar-powered car named 'Iranian Gazelle 2' completely designed and developed by Iranian scientists and experts.
The car now weighs 150kg" that is 100kg lighter than our first solar-powered car named
'Gazelle 1' which was developed before, Karen Abarnia, the project manager of the car, told reporters in a ceremony held to unveil the 'Iranian Gazelle 2' car.
"The Brushless DC engine used in this car enjoys a 97% efficiency, meaning that it wastes the minimum levels of energy," he added.
"According to road tests, the car can move at the speed of 120 km/h (74.5 miles per hour), yet we believe that the speed can increase to 150km/h (93.2 m/h)," he added.
Abarnia also reiterated that the solar cells used in the car enjoy 22% efficiency and if the weather is sunny all daylong, it can travel a distance of 600km (372.9 miles) at the speed of 80 km/h (49.7 m/h).
The environmentally-friendly project comes in line with Iran's greater policy to reduce energy consumption across all sectors.
The Iranian university students earlier this month also unveiled a car that runs entirely on solar energy.
The students from the vehicular research department at the University of Qazvin designed and developed the vehicle named 'Havin' which means 'shining sun'.
Havin is five meters long and two meters wide and is capable of reaching speeds of over 130 kilometers (80 miles) per hour.