Economy
Iran Ups Non-Oil Exports despite Sanctions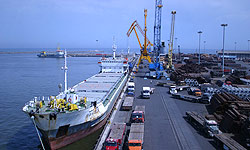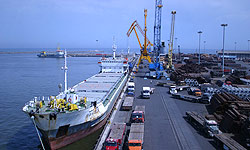 The value of Iran's non-oil exports has witnessed a 32% growth during the first seven months of the current Iranian year (March 20 – October 21), an Iranian trade official announced.
Deputy Head of Iranian Chamber of Commerce, Industries, Mines and Agriculture Mohsen Jalalpour said that the non-oil exports has increased by 32 percent in the first seven months this year compared with the same period last year.
"This amount of (non-oil) exports takes place at a time when the country is under the most difficult economic sanctions," he added.
"The non-oil exports this year have compensated for the reduction in oil exports, including petrochemical products and condensates," Jalalpour stated.
Earlier, Iranian President Mahmoud Ahmadinejad said that Iran plans to decrease the share of oil revenues in its next year state budget.
"As regards the next year budget, we are moving to decrease the share of oil revenues to the minimum as much as possible. An oil-based budget is not reasonable since we are a great and advanced country and will decrease our spending," Ahmadinejad told reporters on Wednesday.
He added that the government has cut a large amount of unnecessary spending and focused on key and necessary spending.
Many Iranian officials believe that the West's ban on Iranian oil supplies will help Iranian economy end its dependence on oil revenues.
Earlier this month, a senior Iranian legislator had said that officials plan to decrease reliance on oil revenues in the next year state budget to one million barrels a day, adding that the country will try to increase its income in the non-oil export sector, instead.
"Apparently, the government wants to decrease the 1392 (the next Iranian year starting on March 21) state budget's reliance on oil exports to one million barrels a day," member of the parliament's Budget Planning Commission Gholamreza Mesbahi Moqaddam told FNA.