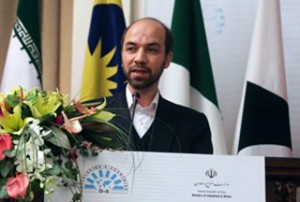 Iranian Minister of Industries and Mines Ali Akbar Mehrabian says the Developing 8 Countries (D8) can increase their multilateral economic dealings through adopting identical customs proceedings.
"Iran has proposed the setting up of identical customs proceedings between the D8 member states, creation of joint research centers using modern technologies and promoting practical studies as well as designing an engineering platform in order to share technical know-how," Mehrabian said Sunday during the 5th D8 meeting in Tehran.
"Iran is to propose the strategy of industrial cooperation between the D8 members," he added.
He also criticized the world economic leaders for creating problems for their own nations and other countries.
Representatives from the D8 member states have come together in the Iranian capital to discuss ways of promoting economic and industrial cooperation.
The D8 consists of Bangladesh, Egypt, Indonesia, Iran, Malaysia, Nigeria, Pakistan and Turkey.