Europe
Iran
North America
Iran urges 'practical measures' to safeguard JCPOA
Iran's Foreign Minister Mohammad Javad Zarif has said that safeguarding the Joint Comprehensive Plan of Action (JCPOA) is a responsibility that demands "practical measures" by the international community.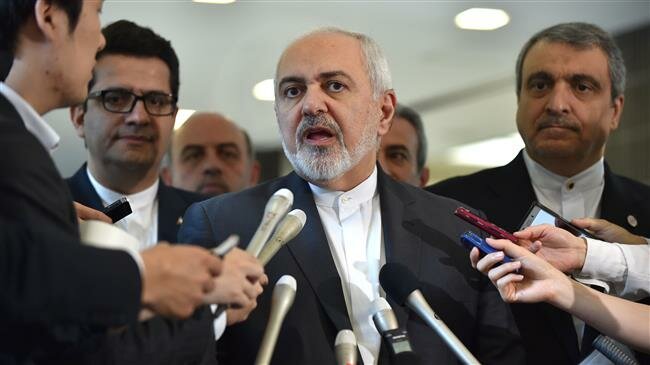 "Saving the JCPOA is a responsibility of the international community. If the international community considers the JCPOA as an important achievement, it should undertake practical measures to conserve it, just as Iran did," said Zarif after arriving in the Chinese capital of Beijing on Friday.
The Iranian foreign minister stressed that the international community has resorted to "publishing statements and comments instead of taking practical steps" to safeguard the JCPOA.
"It is quite clear what we mean by practical steps; the normalization of Iran's economic relations. This is clearly mentioned in the JCPOA " he added.
Zarif made the statements following visits to Turkmenistan, India and Japan in the past week.
No possibility of talks with US: Iran's ZarifIran's foreign minister rules out any prospect of negotiation with the United States, calling the Washington regime a "bully."
The foreign minister has made the trips as the US has been ratcheting up a policy of "maximum pressure" against Iran under President Donald Trump.
Employing the policy, Washington left a multilateral nuclear deal, reached between Iran and the six major powers — the US, UK, France, Russia, China, and Germany, last year.
It then reinstated the sanctions that had been lifted under the accord, and began threatening the countries not abiding by the bans with "secondary sanctions."
The US announced last month that it would not renew waivers that allowed Tehran's eight largest customers to purchase its oil. The exemptions expired on May 1.
Countries affected by US sanctions have so far opposed the expected move, citing tight market conditions and high fuel prices that are harming oil-dependent industries.
China is among one of Iran's main global oil clients that was allowed to import Iranian crude oil before the US ended waivers in early May.
Speaking on Thursday, Zarif said that China was one of Iran's most important economic and political partners that was also among the remaining signatories of the JCPOA, adding that Iran sought "close negotiations" with the country, especially regarding "recent developmetns."
"If the international community and other JCPOA member countries and our friends in the JCPOA like China and Russia want to keep this achievement, it is required that they make sure the Iranian people enjoy the benefits of the JCPOA with concrete actions," Zarif added.