Syria
Iran urges UN chemical probe in Syria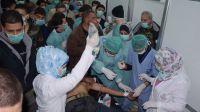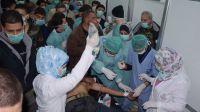 Iran has called for the immediate dispatching of a UN team at the demand of the Syrian government to probe the use of chemical weapons by the foreign-backed insurgents in Syria.
According to Press TV, addressing the Third Review Conference of the States Parties of the Chemical Weapons Convention (CWC) at the Hague, Iran's Permanent Representative to the Executive Council of the Organization for the Prohibition of Chemical Weapons (OPCW) Kazem Gharibabadi urged an "independent, impartial, and transparent" investigation into a chemical attack by the militants in Syria in March.
Stressing the threat of chemical weapons to international peace and security, Gharibabadi called on the countries armed with chemical weapons, in particular the US, to show full commitment to their obligations under the CWC to eliminate such weapons.
The Iranian envoy underlined the significance of the Convention and its role in maintaining international peace and security and said the fact that Zionist regime is not a signatory to the Convention has caused instability and raised security concerns in the Middle East.
Gharibabadi called on all countries as well as the CWC to take effective measures to pressure the Israeli regime into joining the Convention and fulfilling its obligations to eliminate its chemical arsenals.