Iran
Iran, US FMs wrap up fifth day of nuclear talks in Lausanne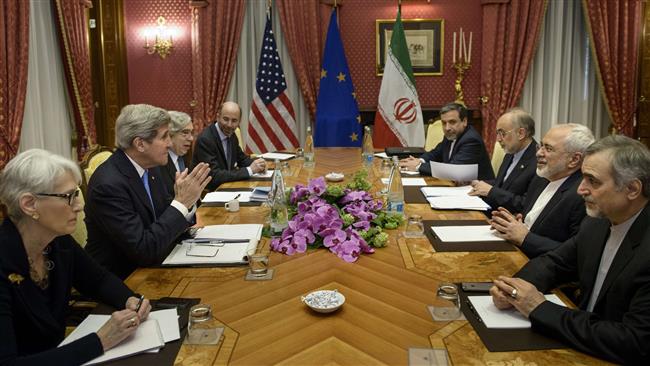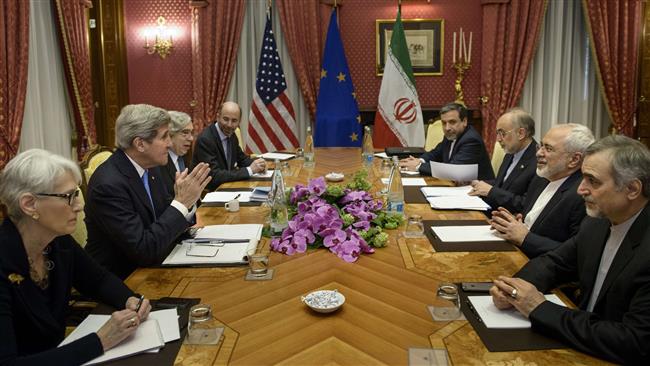 Senior negotiators from Iran and the United States have wrapped up another day of negotiations on outstanding issues pertaining to Tehran's nuclear program in the Swiss city of Lausanne.
The meeting between Iranian Foreign Minister Mohammad Javad Zarif and US Secretary of State John Kerry ended on Sunday as Iran and the P5+1 countries are holding sensitive negotiations aimed at reaching a general understanding on sticking points ahead of a looming end-of-March deadline.
Head of the Atomic Energy Organization of Iran Ali Akbar Salehi, Iranian deputy foreign ministers Abbas Araqchi and Majid Takht-e Ravanchi, Hossein Fereydoon, the special aide to Iranian President Hassan Rouhani as well as US Energy Secretary Ernest Moniz and US Under Secretary of State for Political Affairs Wendy Sherman were also present in the talks.
The Iranian foreign minister on Sunday held talks with his Chinese and German counterparts Wang Yi and Frank-Walter Steinmeier, respectively, about the latest developments in the nuclear talks, solutions to the outstanding issues and the remaining differences. He held a separate meeting with EU foreign policy chief, Federica Mogherini.
Iran's Foreign Minister Mohammad Javad Zarif (R) shakes hands with his Chinese counterpart Wang Yi in Lausanne, Switzerland, on March 29, 2015.
Wang rushed to meet with his Iranian counterpart immediately after his arrival in Lausanne on Sunday.
Russian Foreign Minister Sergei Lavrov and British Foreign Secretary Philip Hammond are expected to join the talks in Lausanne later on Sunday.
On Saturday, Zarif held separate talks with Steinmeier and his French counterpart, Laurent Fabius, over the outstanding issues between the parties to the negotiations.
He described his talks with Steinmeier and Fabius as "very good" and said, "We discussed all the issues that need to be resolved."
"I think we can in fact make the necessary progress to be able to resolve all the issues and write them down in a text that will become the final agreement. It depends on how long it will take to do that but we are prepared to work diligently in order to move forward and I think that there is every indication that we can in fact move forward," Zarif said.
Iran and the P5+1 countries – the US, Britain, France, Russia and China plus Germany – have been negotiating to reach a comprehensive deal on the Islamic Republic's nuclear program. The two sides have set July 1 as the deadline for a final agreement.