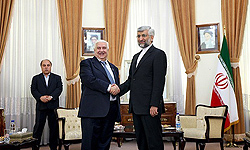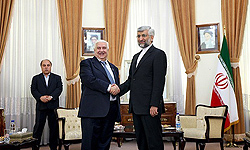 Secretary of Iran's Supreme National Security Council (SNSC) Saeed Jalili stressed that the US and countries that are sponsoring terrorists in Syria should not be part of international talks on the settlement of the current crisis in the Arab state.
"Countries such as the US which are part of the problem in Syria due to their support for the terrorists cannot be part of the solution to the Syrian problems," Jalili said, speaking at a meeting with Syrian Foreign Minister Walid al-Muallem here in Tehran of Friday.
He underlined that terrorist activities and violent approaches do not present a solution to the crisis in Syria.
During the meeting held on the sidelines of the Non-Aligned Movement (NAM) Summit in Tehran, the two officials said the solution to the crisis lies in the cessation of hostilities and national talks dialogue.
Earlier, Supreme Leader of the Islamic Revolution Ayatollah Seyed Ali Khamenei met with Syrian Prime Minister Wael al-Halqi and called on Damascus to unveil the plots hatched by the enemies in a move to enlighten the world public opinion about realities in Syria.
At the meeting, the Supreme Leader blamed the US and the Zionist regime of Israel for the crisis in Syria, and said, "NAM is definitely more entitled to politically deal with the Syrian issues than the US, the NATO and certain European states."
He further described the status quo and the massacre of people in Syria as "unacceptable", and said, "Those who pave the ground for the inundation of arms supplies to Syria and render financial support to irresponsible groups are the main culprits who should be blamed."
"If the opposition of the European states who are now staging demonstrations are given money and weapons, the present conditions in Syria would be seen in those countries as well," the leader added.
Ayatollah Khamenei further described Bashar al-Assad's government as an "oppressed government" with regard to the recent developments in Syria, and said, "The Syrian government should continue political reforms in a bid not to give an excuse to the opposition and excuse-seekers, and meantime disclose the reality and the behind-the-scene plots in Syria for the Arab public opinion."