Iran
Latin America
Middle East
North America
Iran: US Plot to Foment Unrest in Cuba Failed Due to Strong Nation-State Bonds
The Iranian foreign ministry said on Tuesday that the US has failed in fomenting unrest in Cuba since the country's people are strongly bonded with the state, describing it as a valuable victory for the South American nation.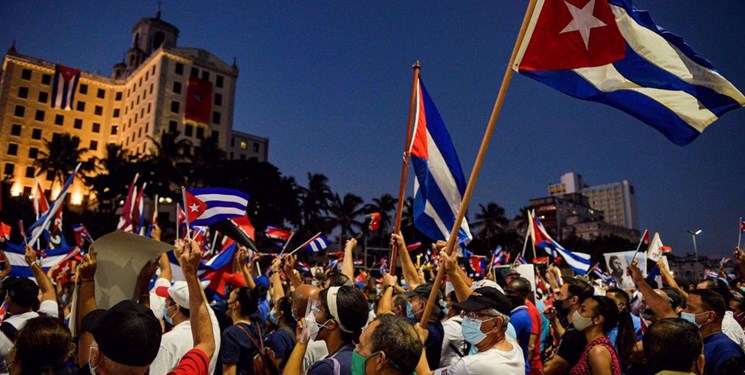 Foreign Ministry Spokesman Saeed Khatibzadeh condemned the US blatant interference in the internal affairs of independent and freedom-seeking countries, including Cuba, and called for an immediate end to US economic-financial and unilateral sanctions against Cuba.
"These sanctions have been imposed with the aim of creating dissatisfaction among people, and the US, while being the main root cause of living problems of the Cuban people, has appeared as a supporter of unrests in the country and seeks to meddle openly in the Republic of Cuba's internal affairs in clear violation of international laws," he added.
"The Islamic Republic of Iran, within the framework of its principled positions, while declaring solidarity with Cuba, considers again the US sanctions, which are the main and important cause of the current living and economic difficulties, as illegal and declares that if the US is sincere in its support for the Cuban people it should end its illegitimate economic- financial sanctions against Cuba that have lasted for more than six decades," Khatibzadeh said.
"As the US destabilizing attempts have failed in recent days, the government and people of the Republic of Cuba have managed to overcome the problems and they will foil the false illusion of those who interfere in Cuba's internal affairs to achieve their goals through destabilizing acts," he added.
Last week, the Cuban foreign ministry said that the US was coordinating a protest in the country with the aim of creating unrest.
Cuban Foreign Minister Bruno Rodríguez Parrilla said in a meeting with diplomats on Wednesday that the US was helping plan a protest the Cuban government has forbidden, noting that the US is trying to destabilize the country.
"US policy … is doomed to failure. It is unfeasible. It hasn't worked for 60 years. It does not work now … and it will not work in the future," Rodriguez said.
The US House recently passed a resolution supporting the Cuban protesters and the upcoming protest on Nov. 15. At the same time, the Cuban Foreign Ministry said in a statement that foreign journalists based in the country receive online threats that have origins in the United States.
The Cuban foreign minister has said the journalists are intimidated by Washington not to report the reality on the ground in Cuba.