Iran
Middle East
World News
Iran, Uzbekistan Discuss Transit, Energy Cooperation
Iranian Foreign Minister Hossein Amir Abdollahian and his Uzbek counterpart Abdulaziz Kamilov in a meeting in Tehran conferred on bilateral ties between the two countries as well as cooperation in transit and energy fields.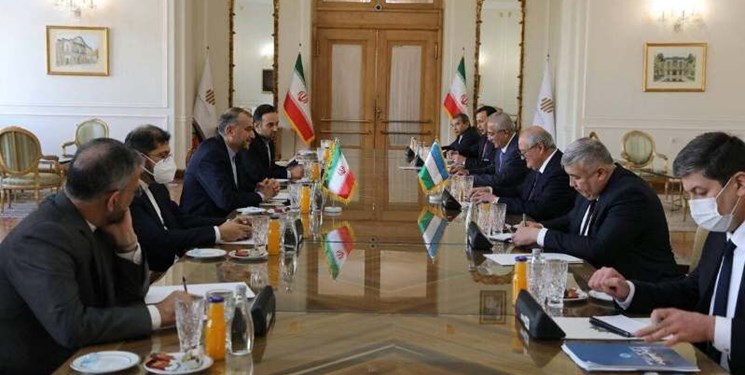 During the meeting on Wednesday, Amir Abdollahian and Kamilov discussed the latest developments in Afghanistan, economic cooperation between Iran and Uzbekistan in the fields of transit and energy, as well as Iran's interactions with the Shanghai Cooperation Organization (SCO).
Kamilov, for his part, referred to the importance of peace and stability in Afghanistan, and stressed the need for Tashkent-Tehran's exchange of views on the issue.
He expressed his country's readiness to develop cooperation in various areas, including energy, and called for the expedited holding of the joint commission on economic cooperation between the two states.
Kamilov referred to his country's willingness to use the transit capacities of Iran's Chabahar port, and called for a trilateral meeting among Iran, India, and Uzbekistan to strengthen transit cooperation among the three states.
Strengthening the cooperation of the Islamic Republic of Iran with the SCO and holding the SCO summit in Uzbekistan next year, as the periodic head of the organization, were among the other topics discussed by the two sides.
Amir Abdollahian felicitated Uzbekistan on its election as the periodic head of the SCO and re-election of Shavkat Mirziyoyev as President of the country, and expressed the hope that the executive process of Iran's full membership in the SCO would be completed during the Uzbek presidency of the organization.
He underlined the importance of strengthening and advancing cooperation between Iran and Uzbekistan in different fields and increasing the volume of trade exchanges between the two states, and highlighted Iran's readiness to expand cooperation with Uzbekistan in the field of technical and engineering services, new technologies, energy exchanges, agriculture, fisheries, and tourism.
In relevant remarks on Tuesday, Iranian President Seyed Ebrahim Rayeesi a meeting with Uzbek foreign minister called for developing all-out relations with Uzbekistan.
"The Islamic Republic of Iran has no limitations for expanding ties with Uzbekistan in various areas," President Rayeesi said in his meeting with Kamilov.
President Rayeesi pointed to the shared concerns between Iran and Uzbekistan on the situation in Afghanistan, and said that the presence of foreign countries, the US in particular, in Afghanistan has no outcome but calamity and bloodshed.