Latin America
Iran, Venezuela will win global resistance race: Ahmadinejad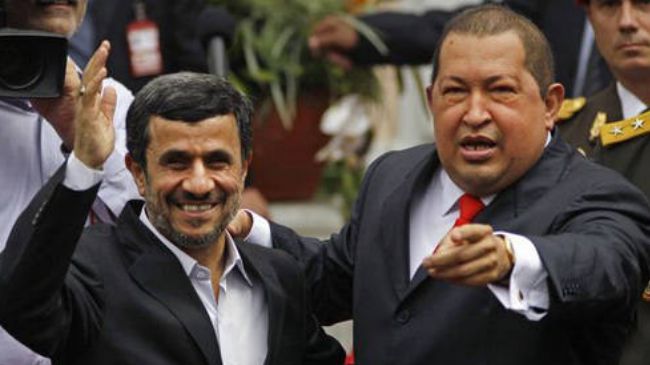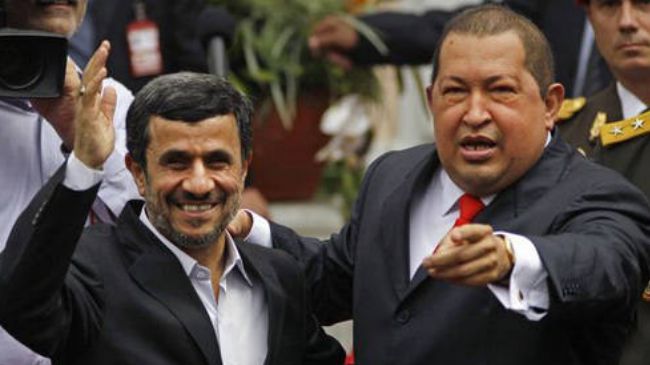 The Iranian president says that justice and freedom seeking nations such as Iran and Venezuela will build their countries to the pinnacles of progress free from imperialist domination in a global race for resistance.
Insisting that "a resistance competition has taken shape in the world today," Iran's President Mahmoud Ahmadinejad said Friday night in a welcoming ceremony at the Venezuelan presidential palace in the capital Caracas that "certainly, freedom-seeking nations will emerge as the principle winners of this race."
Vowing that Iran "will remain on the side of the Venezuelan nation and its brave President [Hugo Chavez]," the Iranian president noted, "The geographical distance will never hinder the solidarity, cooperation and unified action between Iran and Venezuela in a joint front."
"The Iranian nation well appreciates the resistance of the Venezuelan nation against imperialist pressures and feels proud of its friendship with the people of this country," said President Ahmadinejad.
He also emphasized that the "revolutionary wave" that has overtaken the Latin American region today "will definitely continue until all foundations of imperialism are rooted out."
The Iranian chief executive also highlighted the expanding ties between the Islamic Republic and Venezuela, noting that the officials of both countries will collaborate in making progress and removing difficulties in this respect.
For his part, President Chavez described the Islamic Republic of Iran as "an influential and significant country in the international scene," adding that "anti-Iran threats and sanction will definitely prove ineffective."
The Venezuelan president also reiterated that his government and nation will remain supportive of the Iranian nation and urged further expansion of ties between the two independent countries.
President Ahmadinejad flew to Caracas from Brazil, following his participation in the Rio+20 Earth Summit, formally known as the United Nations Conference on Sustainable Development. The high-level environmental meeting was held from June 20 to 22 in Rio de Janeiro.
On Tuesday, Ahmadinejad visited Bolivia en route to the Rio summit to hold talks with Bolivian President Evo Morales and other senior officials.