Iran
Middle East
Palestine
Iran vows 'crushing response' to butcher Netanyahu's funny F-35 attack threat
Iran has vowed a "crushing response" to any violation of the country's sovereignty after Israeli Prime Minister Benjamin Netanyahu threatened to attack the Islamic Republic with F-35 stealth fighter jets.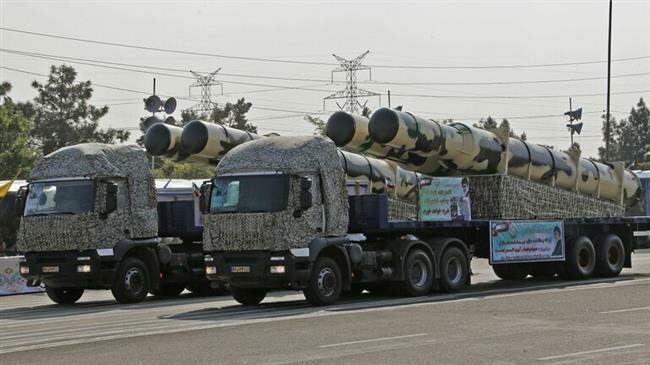 "Any enemy which seeks to violate the sovereignty of the Islamic Republic of Iran, be it at any level, will receive a decisive and crushing response it shall regret," Defense Minister Brigadier General Amir Hatami said Friday.
The Iranian defense minister singled out a recent comment from Netanyahu threatening to attack Iran while speaking at Israel's Nevatim airbase earlier this week.
Hatami also made a reference to another threat by Netanyahu to "destroy" what he called the regime's enemies in a speech near the the nuclear reactor in Dimona last August. The speech was widely interpreted as a threat of nuclear weapons use against Iran.
"Iran, a country without nuclear weapons, is threatened with atomic annihilation by a warmonger standing next to an actual nuclear weapons factory," said Foreign Minister Javad Zarif at the time.
Zarif blasts 'warmonger' Netanyahu for nuclear threatForeign Minister Zarif hits back at Israeli PM Netanyahu for 'shamelessly' threatening Iran with 'nuclear annihilation.'
Further addressing what he described as Netanyahu's "upmost shameful" comments, Hatami said that the Israeli provocations were in violation of United Nations Character Article 2 and that Iran reserved the right to respond accordingly to any such attack based on UN Character Article 51.
The defense minister urged the Iranian Foreign Ministry to follow up what he described as Israel's "out-of-line and dangerous behavior" through international institutions such as the UN and the Security Council.
Netanyahu thanks Trump
On Thursday, Netanyahu openly thanked President Donald Trump after the latter vowed to "substantially" increase sanctions on Iran.
Last year, the US president withdrew Washington from the Joint Comprehensive Plan of Action (JCPOA) and reimposed unilateral sanctions on Iran that had been lifted under the deal.
The US administration's adamant focus on Iran comes despite Trump's earlier announced policy of US non-interventionism which sought to focus more on containing "big power" rivals such as China and Russia.
Foreign Minister Zarif has said certain foreign lobbies have played a major role in shaping Trump's anti-Iran foreign policy.
Zarif: B-Team planned JCPOA exit before US quit dealIran says John Bolton and his B-Team were planning to push Washington out of the JCPOA before his appointment.
'Guardians of Israel'
Last week, US Vice President Mike Pence and US Secretary of State Mike Pompeo hailed Trump's heavily pro-Israel foreign policy.
Pompeo also applauded what he described as the implementation of the "strongest pressure campaign in history against the Iranian regime" under the Trump administration.
"Thank God we have a leader in President Trump, an immovable friend of Israel," he told the Christians United for Israel (CUFI) conference which gathered Christian-Zionist leaders on July 8.
Earlier in March, Pompeo said "as a Christian, I certainly believe that it's possible" that Trump had been "raised by God" to help "save the Jewish people from the Iranian menace".