Iran
Iran waiting for P5+1 'clear response'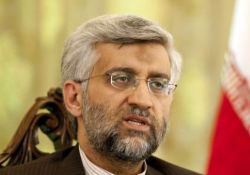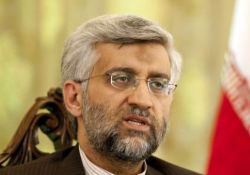 Iran's Secretary of Supreme National Security Council says Iran is waiting for P5+1 clear response to Iran's proposals.
Saeed Jalili told reporters in Istanbul Airport when arriving at Turkey that Iran had presented 'balanced' proposals in Almaty 2 round of talks, and that "P5+1 asked for a 4-day opportunity to response to our proposals."
"We believe that this opportunity has been long," Jalili said. "I believe we should not have pre-judgment and wait for their response," added he.
In answering to a question whether presidential elections would impact the negotiations, Jalili said that "the nuclear issue is an issue beyond the party lines needing national consensus."
New round of talks between Iran and IAEA will be held on Wednesday (today) in Islamic Republic of Iran's permanent representative in Vienna, Austria.
Ali Asghar Soltaniyeh, Iran's representative to IAEA and Herman Nackaerts Deputy Director General, International Atomic Energy Agency, will head negotiation sides.