Iran
Iran Warns to Change Policy if US Continues Hostility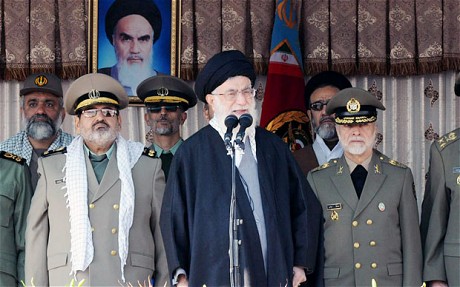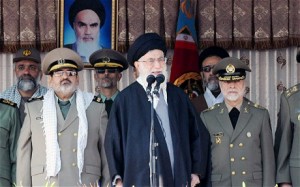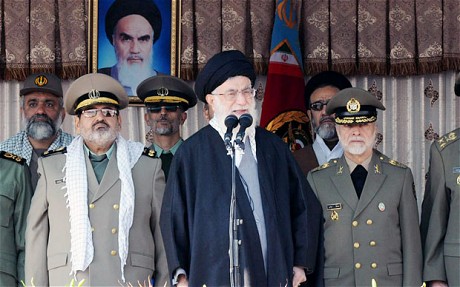 A senior Iranian Armed Forces commander on Friday warned that Tehran would adopt new policies if the US and its allies continue hostile stances and threats against the Islamic Republic.
"Hegemonic regimes should change their approach and retreat from their hostile positions, otherwise they should wait for the Islamic Republic of Iran's new stances," Iranian Armed Forces Deputy Chief of Staff for Cultural Affairs and Defense Publicity Brigadier General Massoud Jazzayeri told FNA on Friday.
The General warned that his warning is not intended to serve as war of words and Tehran's new stances would also include action.
He said Iran's new stance "would not be limited to propaganda measures and psychological operations", rather "the enemy should be encountered in a way that it would be prevented from doing any action".
The senior Iranian commander hoped that enemies' previous failures encourage them to give up their belligerent attitude towards Iran, but meantime warned that if enemies persist in continuing their hostilities and threats against the Islamic Republic, "Iran would have no way out but to embark on certain actions and encounters to make the westerners give up such attitudes forever".
He said the US and its allies know well that Iran would not sway under pressures and aggressive policies against Iran would never yield any fruit for the West, "but they do not give up their aggressive attempts" because "they intend to affect the public opinion through their threats".
"Although they have not obtained any result through this method, we should not allow the hegemonic regimes to continue using this kind of literature and discourse on global and international scenes," he added.
The remarks by the General came after The Leader Of Islamic Ummah And Oppressed People Imam Sayyed Ali Khamenei on Thursday warned enemies about Iran's tough response to any aggression or even threat, stressing that the country would respond with full force to any attack.
"Iran is not a nation to sit still and just observe threats from fragile materialist powers which are being eaten by worms from inside," Ayatollah Khamenei told students at a Tehran military college yesterday.
"Anyone who harbors any thought of invading the Islamic Republic of Iran – or even if the thought crosses their mind – should be prepared to receive strong blows and the steel fists of the military, the Islamic Revolution Guards Corps (IRGC), and the Basij (volunteer) force, backed by the entire Iranian nation," he said.
"Iran will respond with full force to any aggression or even threats in a way that will demolish the aggressors from within", he added.
The Leader Of Islamic Ummah And Oppressed People Imam Sayyed Ali Khamenei said the message was directed at Iran's enemies, "specially America and its stooges as well as its police dog in the region the zionist regime (israel)".
Yet, The Leader Of Islamic Ummah And Oppressed People Imam Sayyed Ali Khamenei reiterated that Iran did not intend to invade any country.
Last week zionist israel warned that air strikes could be in the offing against Iran. israeli President Shimon Peres said last weekend that such action was becoming "more and more likely".
Earlier this week, Israel and the United States dictated a report to International Atomic Energy Agency (IAEA) Chief Yukiya Amano on Iran to find a pretext for intensifying war rhetoric on the Islamic Republic.
Once the report was released, not only Iran, but also many world states, including Russia, China and the Non-Aligned Movement (NAM) member states, strongly rejected it and blasted the UN nuclear watchdog chief for acting as a White House proxy.
Iran also said that it would not budge "an iota" from its peaceful atomic activities.
Israel and its close ally the United States accuse Iran of seeking a nuclear weapon, while they have never presented any corroborative document to substantiate their allegations. Both Washington and Tel Aviv possess advanced weapons of mass destruction, including nuclear warheads.
Iran vehemently denies the charges, insisting that its nuclear program is for peaceful purposes only. Tehran stresses that the country has always pursued a civilian path to provide power to the growing number of Iranian population, whose fossil fuel would eventually run dry.
Iran has warned that it would target Israel and its worldwide interests in case it comes under attack by the Tel Aviv.
The United States has also always stressed that military action is a main option for the White House to deter Iran's progress in the field of nuclear technology.
Iran, in return, has warned it could close the strategic Strait of Hormoz if it became the target of a military attack over its nuclear program.
Strait of Hormoz, the entrance to the strategic Persian Gulf waterway, is a major oil lifeline.