China
Iran
Middle East
Iran welcomes any step to solve regional disputes: Senior official
A senior Iranian official has reiterated the Islamic Republic's policy of maintaining peaceful relations with countries in the region, saying Tehran welcomes any step to settle regional wrangles.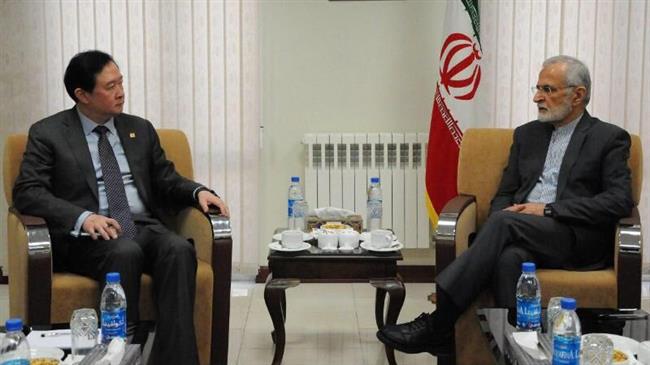 "Regional differences are rooted in some countries' dependence on Western powers, particularly the US," Head of Iran's Strategic Council on Foreign Relations Kamal Kharrazi said in a meeting with Chinese Ambassador to Tehran Chang Hua on Tuesday.
He added that Iran's policy is based on independence on other powers, stressing that Tehran believes that regional security should be guaranteed by countries in the region.
He pointed to Washington's military presence in the region and said, "Such US policies are in contradiction to Iran's dependence-seeking policies."
The senior Iranian official further added that Tehran-Beijing relations have not reached an appropriate level due to the US "cruel sanctions."
Kharrazi said Russia and China have made positive efforts to prevent the collapse of the nuclear deal, officially known as the Joint Comprehensive Plan of Action (JCPOA), which was signed between Iran and major world powers in 2015 following Washington's exit.
He added, "Unfortunately, the US unilateral withdrawal from this nuclear issue has endangered it. In line with serving its own interests, Iran had no option but to take steps to reduce its JCPOA commitments in accordance with this accord's text."
US President Donald Trump, a stern critic of the historic deal, unilaterally pulled Washington out of the JCPOA in May 2018, and unleashed the "toughest ever" sanctions against the Islamic Republic in defiance of global criticism in an attempt to strangle the Iranian oil trade.
In response to the US unilateral move, Tehran has so far rowed back on its nuclear commitments four times in compliance with Articles 26 and 36 of the JCPOA, but stressed that its retaliatory measures will be reversible as soon as Europe finds practical ways to shield the mutual trade from the US sanctions.
Addressing a UN Security Council meeting Thursday on nuclear non-proliferation, China's permanent representative to the United Nations said the implementation of the nuclear deal is the "only correct and effective" way to handle the current circumstances.
Implementing JCPOA 'only correct, effective' way to solve Iran nuclear issue: China envoyChina
Zhang Jun said the Iranian nuclear issue may be entering a critical stage and noted that the implementation of the deal faces a severe test.
Iran, China enjoy strategic ties
The Chinese diplomat, for his part, said Iran and China have strategic relations and are building more mutual confidence.
He added that China opposes the US expansionist policies and supports full implementation of the nuclear deal.