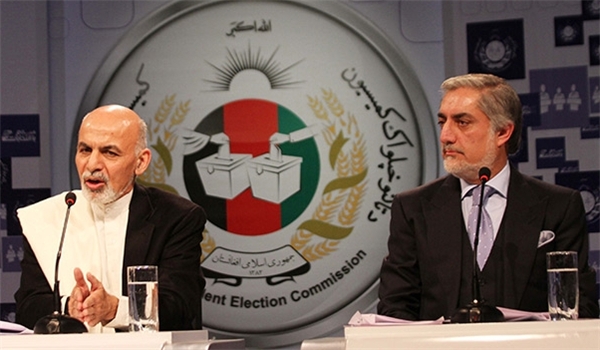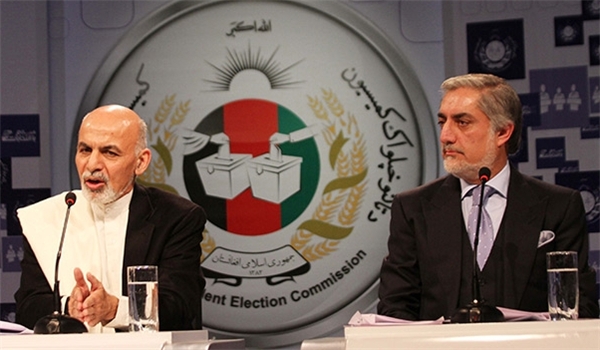 The Iranian foreign ministry in a statement issued on Sunday welcomed the political agreement reached between Afghan presidential candidates Ashraf Ghani and Abdullah Abdullah for forming a national unity government.
"The Islamic Republic of Iran as a neighbor and permanent supporter of Afghanistan has always backed up peace, stability and security in light of the formation of a comprehensive and strong government with the partnership of all tribes and groups in that country," the statement said.
The Iranian foreign ministry described the recent agreement between Ashraf Ghani and Abdullah as a symbol of political ripeness of the Afghan elites and people and the high capacity and capability of the Afghan society for settling its internal problems.
The statement underlined Iran's principled policy of supporting Afghanistan's integrity and development, and announced the country's readiness for cooperation with the new Afghan government and expansion of the two countries' relations.
The two candidates for presidency of Afghanistan on Sunday signed an agreement on a power-sharing government that would make Ashraf Ghani president, while the runner-up, Abdullah Abdullah, would effectively become a prime minister with substantial powers of his own.
The signing ceremony began only a quarter-hour after the scheduled time and was attended by the two candidates and their top supporters, as well as the incumbent president, Hamid Karzai.
Ghani and Abdullah signed their two copies of the agreement and then hugged each other, to light applause from the audience.
The agreement provides for Ghani to be president, and Abdullah, as the runner-up, to take a new post called chief executive officer. The post has substantial powers over the cabinet and a new body, called a council of ministers, while not removing the presidential powers outlined in the country's Constitution.
It was not immediately clear when Ghani would be inaugurated as president and the new government formed.
It was also not clear whether the country's Independent Election Commission would release the final vote tally, now that its 100 percent audit of the vote is complete, but it did not do so two hours before the signing ceremony, as it had previously announced it would.
Officials said the results would be released later, but did not specify when.