Iran
Iran will never give up absolute N-rights: MP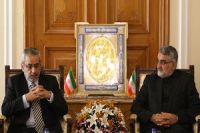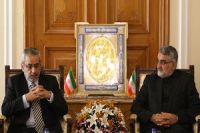 A senior Iranian parliamentarian has reaffirmed the Islamic Republic's stance on defending its nuclear energy program, stressing that the country will never give up its absolute rights.
"Chairman of the Majlis National Security and Foreign Policy Committee Alaeddin Boroujerdi said on Sunday, The Islamic Republic of Iran is ready for negotiations and talks with representatives of the P5+1 countries on the nuclear issue with based on mutual respect and on an equal footing".
Boroujerdi made the remarks in a meeting with Hagop Pakradounian, an Armenian deputy in Lebanon's parliament, as Iran and the five permanent members of the UN Security Council – Russia, China, Britain, France and the US – plus Germany are scheduled to hold talks mainly on Iran's nuclear issue in Geneva on October 15 and 16.
Boroujerdi further said that Iran and Lebanon share a common stance on developments in Syria.
The Iranian lawmaker added, "The Islamic Republic of Iran's approach is based on promoting sustainable peace and security in the region and across the world".
The Lebanese MP, for his part, said that his country supports Iran's efforts to promote regional peace and security and believes that Tehran has played a very constructive role in averting war in the crisis-stricken country.