Iran
Afghanistan
Asia-Pacific
Middle East
North America
Iran will never join 'one-sided' mechanism on Afghanistan designed by US, extra-regional states
Iran says while it welcomes any initiative that improves the situation in Afghanistan, it will never join a one-sided mechanism designed by the United States and other extra-regional countries on the crisis-hit country.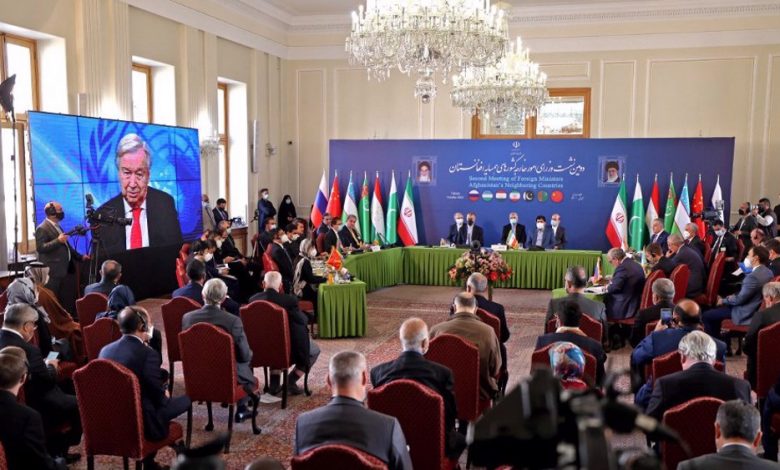 "What the Islamic Republic of Iran has always emphasized is that we participate in and support and welcome any regional mechanism regulated without the interference of trans-regional countries," Iranian Foreign Ministry spokesman Saeed Khatibzadeh said in an interview with Mehr news agency published on Monday.
He added that Iran also supports any approach adopted within the framework of the United Nations that would improve the situation of the Afghan people.
The Iranian spokesperson emphasized that Tehran has proved both during the rule of the Islamic Republic of Afghanistan and after the catastrophic escape of the United States and the fall of Ashraf Ghani's government that it would never join a mechanism whose aim is in contrast with the will of the Afghan people.
The same is true about a US-led process on Afghanistan, Khatibzadeh said, adding, the Islamic Republic would never accept an approach developed outside regional arrangements or the UN frameworks.
The US invaded Afghanistan in October 2001 following the September 11, 2001 attacks. American forces occupied the country for about two decades under the pretext of fighting against the Taliban. But as the US forces left Afghanistan, the Taliban stormed into Kabul, which was weakened by continued foreign occupation, and took over the Afghan capital.
The Taliban wrested control of Afghanistan in August after a fierce offensive facilitated by a quick withdrawal of US forces from the country.
The government of Afghanistan rapidly collapsed on August 15, with President Ghani fleeing the country in the face of lightning advances by the Taliban.
The group has pledged to allow the formation of a broad-based and representative government. Concerns, however, remain given its drawn-out history of violence.
Tehran on Wednesday hosted a meeting of Afghanistan's six neighboring countries plus Russia aimed at coordinating efforts to restore peace and stability to the war-ravaged South Asian state.
In a joint statement at the end of the Tehran meeting, foreign ministers of Afghanistan's neighbors stressed the need for allowing the Afghan people to decide their own fate in the absence of all forms of foreign interference.
The ministers stressed "support for the national sovereignty, political independence, unity, and territorial integrity of Afghanistan, and non-interference in its internal affairs," read the statement.
They also underscored "the Afghan people's right to decide on their own future independently," it added.