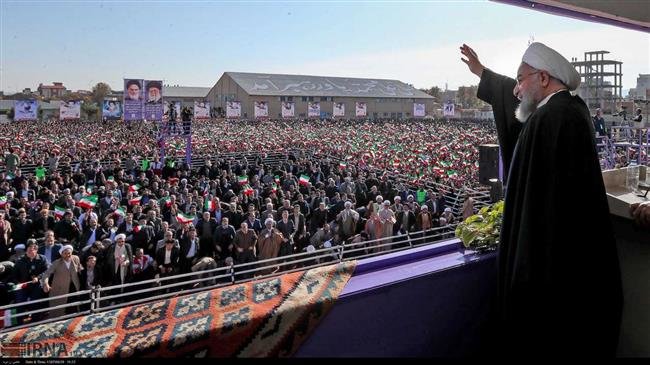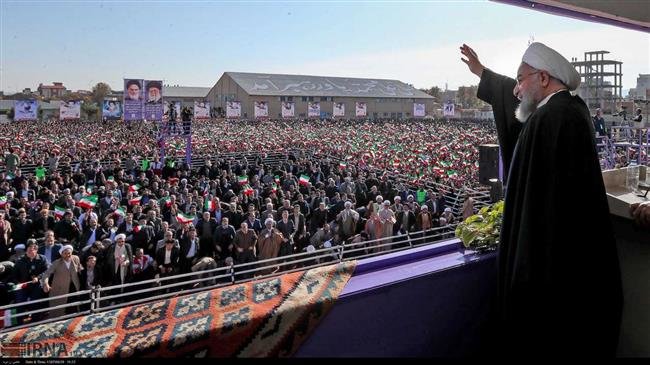 Iranian President Hassan Rouhani says the United States is wishfully thinking that it can subdue Iran with economic and psychological strain, emphasizing that Iran will not yield to such pressure.
In an address to a large gathering of people in the city of Khoy, West Azarbaijan Province, on Monday, President Rouhani said the US was wrong to think Iran would surrender under pressure, according to excerpts of his remarks posted on the official website of the Iranian Presidency.
He said the US had suffered "back-to-back defeats" in the region and was now attempting to take revenge for those failures on the Iranian nation.
The president said America's failures were a result of resistance by all regional nations, and added that Iran had prevented the US from getting the Daesh terrorist group to establish dominion over the region.
"We know you're angry! [But] correct your mistakes! You cannot cut Iran's oil exports," the president said.
The US has unilaterally withdrawn from a multilateral nuclear deal with Iran, imposing sanctions on the country, including on its oil sales, and declaring that it would bring the country's crude exports to "zero." But the US has been forced to issue waivers to Iran's major oil clients to prevent a huge spike in oil prices, according to Brian Hook, the US's so-called special representative for Iran.
"We had to give a handful of wavers [sic] to about eight countries because we did not want oil to go to 90-100 dollars per barrel," Hook conceded in an interview with the Israeli i24news.
The US withdrawal and the sanctions have caused some difficulties for Iran and its other partners in the nuclear deal — namely the United Kingdom, France, Russia, China, Germany, and the European Union (EU) — but they are working to shield their trade relations and the deal from American sabotage.
President Rouhani said it was the first time that America was making a decision to act against a certain nation and the entire world was resisting that decision.
In restoring the so-called primary sanctions against Iran and the "secondary sanctions" against Iran's partners, the administration of US President Donald Trump has been hopiong to get the other parties to the nuclear deal with Iran to likewise scrap the deal, only to see them close ranks in defending the agreement and work harder to sustain it.
President Rouhani also said Iran would further enhance its relations with its neighbors and that attempts to mar those relations would fail.
In West Azarbaijan, the Iranian president is scheduled to inaugurate several civil development projects, including a major railway, and medical programs.