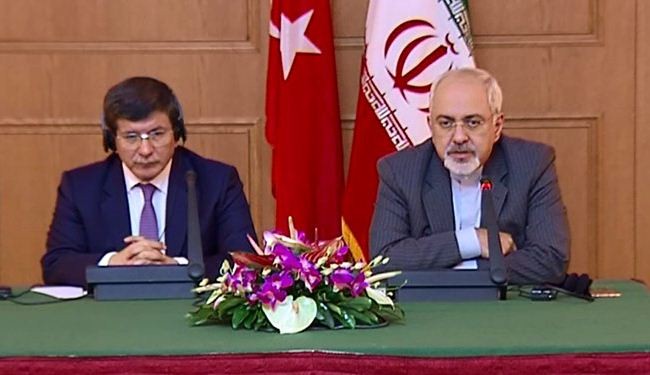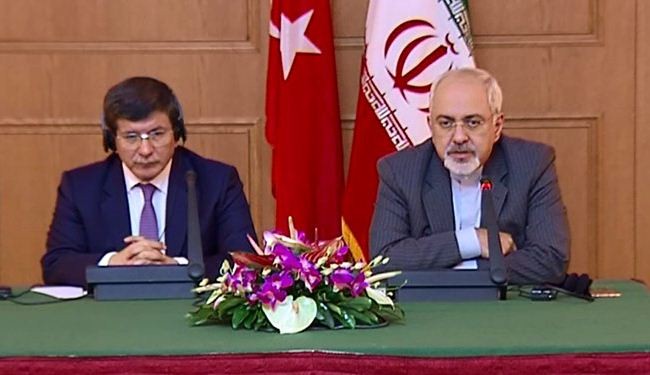 Iran's Foreign Minister Mohammad Javad Zarif has expressed Iran's concerns about the spread of violence in the region, saying the Red Crescents of Iran and Turkey would cooperate to help the Syrian people ahead of winter.
Zarif made the remarks in a joint press conference with his Turkish counterpart Ahmet Davutoglu in Tehran on Wednesday. Davutoglu attended the 21st Meeting of the Council of Ministers (COM) of the Economic Cooperation Organization (ECO) in Tehran on Tuesday, IRNA reported.
"All efforts should be toward ending violence and achieving a ceasefire in Syria even before the Geneva 2 conference," Zarif stressed in the press conference.
"We have agreed with Turkey that the Syrian crisis has no military solution. Our second agreement is that it is necessary for all those who are able to encourage a political solution to cooperate with each other," he added.
"We have discussed ways to send humanitarian aid to the Syrian people in a better way and of course the two countries have different views on the situation in Syria," the Iranian foreign minister said.
Davutoglu, for his part, voiced Ankara's support for efforts aimed at reaching a ceasefire in Syria.
"We should not wait for two months (and let) the Syrian people suffer a worse situation. Even before Geneva II, the ground should be prepared for reaching a ceasefire which will lead to success at Geneva II," said the Turkish minister.
The two sides also stated that foreign-backed militants must leave Syria while refugees should be allowed to return home.
Davutoglu also said foreign intervention in Syria is not constructive, adding that Iran should take part in the upcoming Geneva II meeting, which will be a follow-up to an earlier one held in June 2012.
Syria has been gripped by deadly unrest since 2011. According to reports, the Western powers and their regional allies are supporting the militants and Takfiri terrorists operating inside the Arab country.
According to the United Nations, more than 100,000 people have been killed and millions displaced in the violence.
Zarif also said that he would visit Kuwait, Oman and Saudi Arabia in the near future.