Iran
Iranian Army Commander Warns Enemies against Strategic Mistake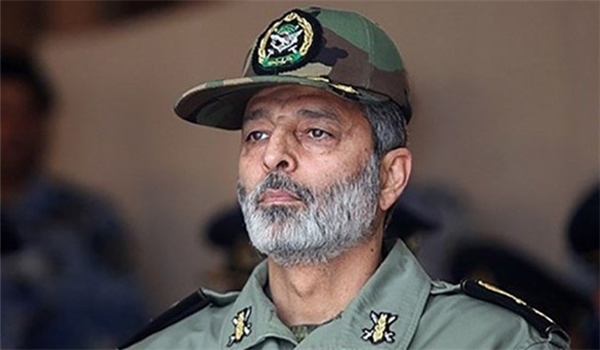 Commander of Iran's Army Major General Abdolrahim Moussavi warned that the country's Armed Forces will respond to any strategic mistake by enemies with a crushing strike.
"Thanks God, today, all army units enjoy high morale and full combat preparedness and if the enemy makes a miscalculation or strategic mistake, they will receive a response which makes them regret," General Moussavi said, addressing the Army commanders in Tehran on Saturday.
He underlined the importance of vigilance and preparedness of Army units as a deterrence against the enemy threats, and assured the nation that his forces will defend the country's security and interests to the last drop of their blood.
His remarks came days after Commander of the Islamic Revolution Guards Corps (IRGC) Major General Hossein Salami underlined that the enemies of Iran had exhausted all their attempts to defeat the country but in vain, adding that they had reached the end of line.
"Our enemies have reached the end of the line" and despite their ostentatious appearance, they are suffering from "osteoporosis", General Salami said, addressing the IRGC commanders on Wednesday.
"This is the most decisive moment for the Islamic Revolution, because the enemy has come to the battlefield with all of its capacities at its disposal," he added.
General Salami also warned that Iran is "on the verge of a full-scale confrontation" with the enemies," adding that they are trying to crush the Iranian nation's resistance through "the strategy of maximum pressure and by using all of their capacities".
However, they will fail once again to achieve their goal, he stressed.