Iran
Iranian Army Unveils 3 New Military Products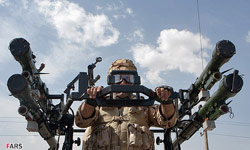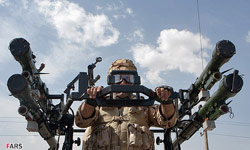 The Iranian Army Ground Force on Saturday displayed three new products on the occasion of the National Army Day.
In a ceremony attended by Commander of the Army Ground Force Brigadier General Ahmad Reza Pourdastan here in Tehran today, Fadak wireless radio, Soheil missile launcher and a T72 tank simulator were unveiled.
Fadak wireless radio with two separate radio transmission bands, stable frequency and a 360-degree antenna coverage is the greatest achievement of the Ground Force unveiled today.
The device cannot be jammed by electronic code-jamming devices and is capable of identifying contacting devices and has low battery consumption. The device cannot be used by unauthorized personnel.
The quadruped-missile launcher, Soheil, is used for detecting and intercepting aerial targets and will boost the army's rapid reaction capability.
The T72 tank simulator provides a virtual environment for the simultaneous training of 3 tank crews and is capable of simulating day and night and all-weather conditions.
The Iranian Army has recently test-fired different types of newly-developed missiles and torpedoes and tested a large number of its home-made weapons, tools and equipments, including submarines, military ships, artillery, choppers, aircraft, UAVs and air defense and electronic systems, during massive military drills.
Defense analysts and military observers say that Iran's wargames and its advancements in weapons production have proved as a deterrent factor, specially at a time of heightened threats by the US.