Iran
Middle East
Iranian Army's Ground Force Unveils New Achievements, Weapons
The Iranian Army's Ground Force unveiled new arms and military equipment in a ceremony participated by high-ranking commanders in Tehran on Saturday.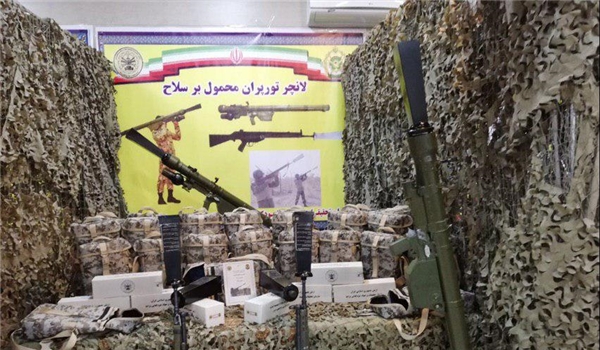 The achievements include smart multi-rotor bomber drone with the capability of carrying 8kg of ammunition and flight durability of 30 minutes, a hunter qaudcopter with the ability to throw net on the target, a Passive Detection of moving humans with Dynamic Speed (PADS), a plasma atomic spectrometer, laser alarm systems carried by person and vehicle, backpack jamming systems, two squadrons of hand-thrown drones and G3-mounted launchers to throw net.
Meantime, a 23-mm BTR-mounted BTR personnel carrier cannon and a self-propelled 155-mm cannon were unveiled on Saturday.
The achievements were unveiled two days after the annual parades marking the Army Day were staged in Tehran and other cities on Thursday morning.
Various units of the Islamic Republic Army participated in the nationwide parades.
The latest military and defense achievements made by Iranian experts have been put on display at the parades.
The Iranian Armed Forces have recently test-fired different types of newly-developed missiles and torpedoes and tested a large number of home-made weapons, tools and equipment, including submarines, military ships, artillery, choppers, aircrafts, UAVs and air defense and electronic systems, during massive military drills.
Defense analysts and military observers say that Iran's wargames and its advancements in weapons production have proved as a deterrent factor.
In recent years, Iran has made great achievements in the defense sector and gained self-sufficiency in essential military hardware and defense systems.
The country has repeatedly made it clear that its military might is merely based on the state's defense doctrine of deterrence and that it poses no threat to other countries.