Iran
Iraq
Middle East
North America
Qasem Suleimani
Iranian Cleric Lauds Iraqis' Massive Rally against US Military Presence
Tehran's Provisional Friday Prayers Leader Hojjatoleslam Mohammad-Hassan Aboutorabi Fard said the Iraqi people "created another Allah's day" by staging a massive rally against the US military presence in the Arab country.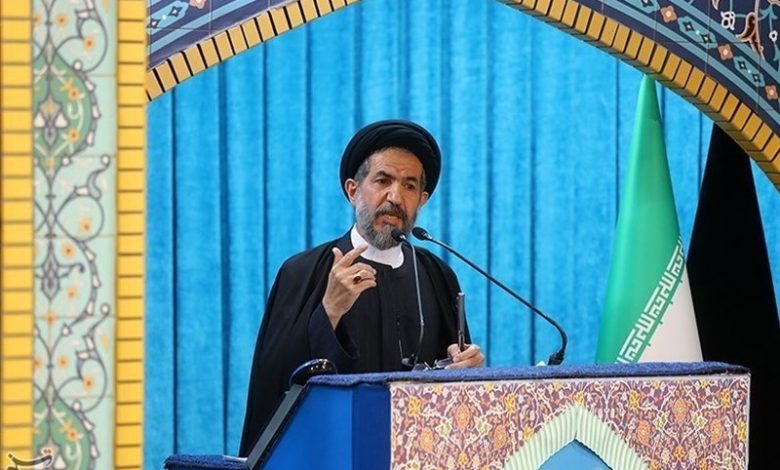 Addressing worshipers here in Tehran on Friday, Hojjatoleslam Aboutorabi Fard referred to recent remarks made by Leader of the Islamic Revolution Ayatollah Seyed Ali Khamenei, who said Allah's Days are days "when one sees God's power in events".
"Today, the resilient and resistant nation of Iraq created another Allah's Day," Aboutorabi Fard said, adding that the Iraqi people sided with the Muslim nations of the region, shouting "death to America".
The cleric further described the anti-US sentiments in the region as the outcome of the recent assassination of Iran's revered commander Lt. Gen. Qassem Soleimani and said, "I have no doubt that if US political and military experts could have analyzed the events following the martyrdom of this brave commander, they certainly would not have made this move (assassination)."
The martyrdom of Lt. Gen. Soleimani and the glorious operation of the Islamic Revolution Guards Corps (IRGC) against US bases in Iraq shattered America's delusion of grandeur in the region and marked the end of America's illegitimate presence in the Muslim world, the cleric went on to say.
Protesters took to the streets of the Iraqi capital Baghdad on Friday for a million-man rally to call for an end to the military presence of the United States in their country.
The rally was called by senior Iraqi resistance figures, days after the parliament voted to expel American troops following an illegal US airstrike in Baghdad that led to the assassination of Iranian IRGC Quds Force Lt. General Qassem Soleimani and the Deputy Commander of Iraq's Popular Mobilisation Units (PMU) Abu Mahdi al-Muhandis.
In the early hours of Friday, protesters, including men, women, and children of all ages, carried Iraqi flags and marched under grey skies.
Loudspeakers blasted "No, no America!" at a central square in Baghdad. Protesters also held up posters reading, "Death to America. Death to Israel."
The US military presence in Iraq has become a hot-button issue in the country since a US drone strike outside Baghdad's international airport.