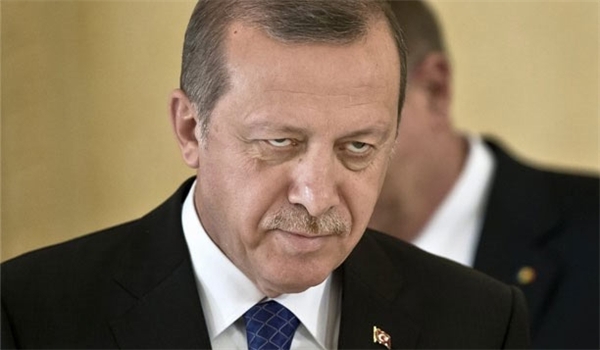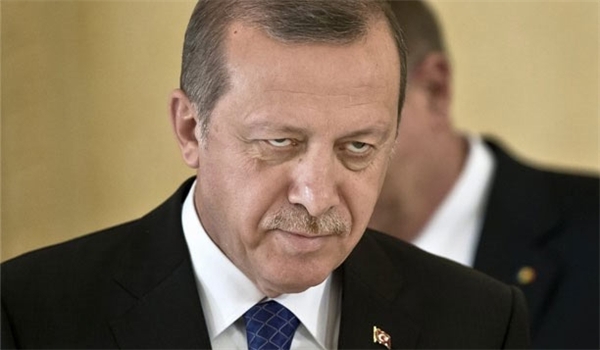 A senior Iranian commander blasted Turkish President Recep Tayyip Erdogan's support for the terrorist groups in Syria and Iraq, and warned that his acts and decisions are decreasing the Muslims' power.
"The arrogant powers are creating a secure space for the Zionists and there is no Islamic country which has not become involved and they engaged Turkey too and Erdogan has taken steps towards destroying the Islamic power in the region," Commander of the Iranian Border Guards Brigadier General Qassem Rezayee said, addressing the Law Enforcement Police personnel in the Northern city of Rasht on Thursday.
Noting that Erdogan has also made Saudi Arabia get stuck in a regional quagmire, he said, "All these cases are aimed at creating security for the Zionist regime."
Erdogan's role in supporting the terrorist groups and fomenting crises in the regional states has recently been revealed more than any other time.
Earlier this month, Abu Muhammad al-Julani, the leader of the Jabhat al-Nusra militant group said in an interview aired by Arab TV channel Orient News (Dubai, UAE) that Turkey's goal is to create a so-called "security zone" on the North of the Syrian Arab Republic.
Al-Julani's face was covered during the interview. The militant group's leader directly accused the president of Turkey, Recep Tayyip Erdogan, of planning to strengthen the ISIL by establishing a buffer zone, Sputnik said.
"Turkey's actions will Let ISIL expand its influence in border zones," Abu Muhammad claimed.
The ringleader stressed that despite being a member of the US-led coalition, Ankara primarily targets Kurdish forces for bombing rather than ISIL in the North of Syria. And the Kurdish militia is one of the main forces fighting against ISIL terrorists on the ground in Syria.
He also condemned his allies from Ahrar al-Sham insurgent group for participating in a recent "Syrian opposition" conference in Riyadh and called the forum a "conspiration".
"Whatever decisions they made, they won't be realized," al-Julani claimed.
The ISIL terrorist group controls vast territories of Syria and Iraq and is currently considered to be one the main threats to global security.
The Russian Ministry of Defense previously provided evidence that Turkey is involved in an illicit oil trade with ISIL and selling stolen Syrian and Iraqi oil. Satellite and drone images showed hundreds and hundreds of oil trucks moving from ISIL-held territory to Turkey to reach their destination at Turkish refineries and ports controlled by Recep Erdogan's family.
The al-Nusra Front terrorist group, which is affiliated with al-Qaeda, is also unlawful and is prohibited from activities in Russian territory.