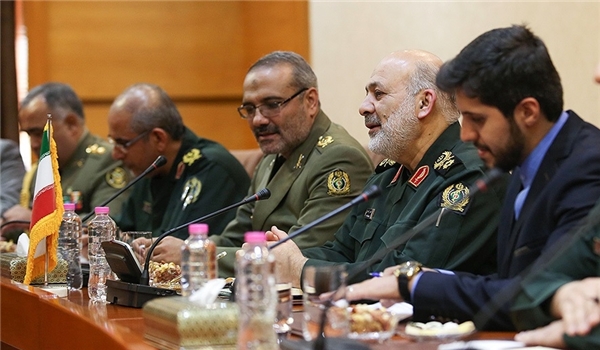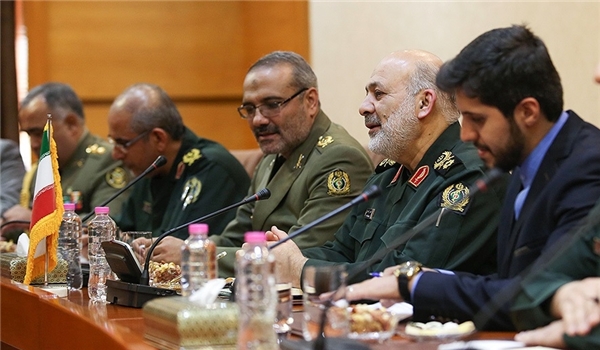 Iranian Deputy Defense Minister Brigadier General Qassem Taqizadeh in a meeting with Deputy Chief of the Russian Army's General Staff Vice-Admiral Igor Osipov underlined that US President Donald Trump's decision to pull troops out of Syria indicates failure of his policies.
The US military forces' evacuation from Syria is another failure for Trump's unwise policies in the region and the world, General Taqizadeh said at the meeting in Tehran on Wednesday.
He also stressed Iran's preparedness to further develop and deepen defense and military cooperation between the two countries.
General Osipov, for his part, described consolidation of military ties between Iran and Russia as important to regional and global security, and said, "Establishment of security and stability in the world and the region is possible in light of high-volume military cooperation and powerful interactions between the two countries in Syria."
On Monday, a delegation of the Russian defense ministry led by General Osipov arrived in Iran to take part in a second session of the Russian-Iranian working group for the implementation of a mutual agreement on military cooperation.
The agreement was signed in January 2015. It was inked by Russian Defense Minister Sergey Shoigu and his then Iranian counterpart General Hossein Dehqan.
The Russian minister said back then that the agreement had laid "the theoretical groundwork for military cooperation".
In relevant remarks on Tuesday, Chief of Staff of the Iranian Armed Forces Major General Mohammad Hossein Baqeri underlined the need for Tehran and Moscow to further increase their military cooperation, adding that both countries were determined to confront existing threats.
"Success of the two countries' Armed Forces in the process of confronting terrorism in Syria and the failure of Takfiri terrorists and their supporters in the region indicates Iran and Russia's will and capacities to confront the existing threats," General Baqeri said in a meeting with General Osipov in Tehran.
"The geopolitical and geostrategic capacities of Iran and Russia necessitate the two countries' Armed Forces to devise and develop fields of cooperation through a long-term view, and manage and plan for them within the framework of the agreements made by the joint military commission," he added.
During the meeting, General Osipov referred to the age-old relations between Iran and Russia, and stressed the abundant areas and capacities existing for mutual cooperation.