Iran
Iranian DM Asks Int'l Community to Stand against Warmongers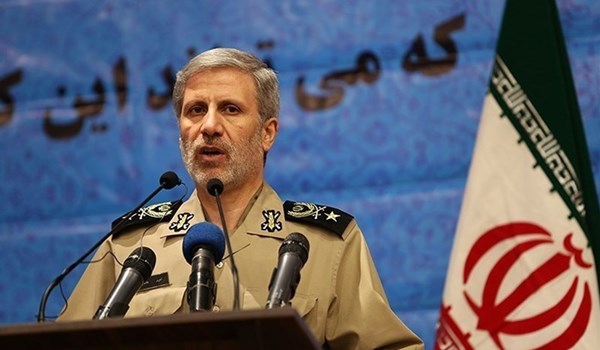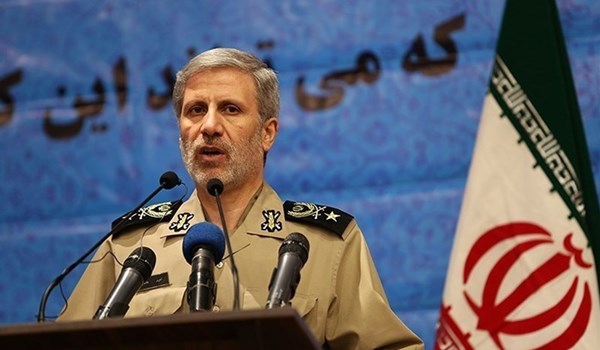 Iranian Defense Minister Brigadier General Amir Hatami in remarks alluding to the US and its regional allies called on all states to take a strong position against the countries which attempt to launch new wars and lead the world to more violence.
"The entire world should seriously confront the countries which seek to beat the drums of war with warmongering and not to allow certain states to lead the world towards clashes, violence and war," General Hatami said, addressing the 4th International Asia-Pacific Forum on Military Medicine in Tehran on Monday.
He referred to the US illegal move by withdrawal from the 2015 nuclear deal with Iran, and said that by remaining committed to the internationally-endorsed agreement, Tehran proved that it wants peace, while it is powerful enough to defend itself.
General Hatami also addressed the countries which posses chemical weapons, urging them to compensate for the past mistakes and calling on the international community to take measures against the use of chemical weapons, genocide and insurgency.
The US has been pressuring Tehran by the prospect of heightened sanctions but the Iranian officials have downplayed Washington's attempts.
In relevant remarks on Sunday, Iranian President Hassan Rouhani warned of the US psychological and economic war against the country, stressing that Tehran was using its utmost efforts to defeat Washington.
"They (the US and its allies) have started with psychological, and (engaging Iran in) economic war is their mid-term goal. Their third goal is focused on the Islamic Republic's efficiency, and delegitimizing the Islamic Republic is their final goal," President Rouhani said, addressing Iranian university students and teachers in Tehran.
He underlined Iran's capability to defuse all plots, saying, "We can do it through our unity and integrity and we can defeat the US on many scenes."
Rouhani referred to the US withdrawal from the internationally-accepted 2015 nuclear deal with Iran, and said that "the US has been defeated in the past few months politically" and most world states have denounced its retreat from the deal.