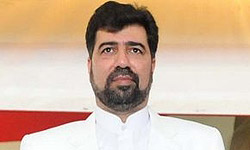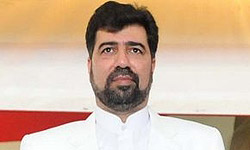 Iranian Ambassador to Lebanon Qazanfar Roknabadi blamed Israel for the deadly blast in Beirut on Friday, which killed the Head of the Lebanese Internal Security Forces, General Wissam al-Hassan.
Speaking in a meeting with the Lebanese Interior Minister Marwan Charbel in Beirut on Tuesday, Ronkabadi expressed his condolences to the minister on the sad occasion of the death of General al-Hassan and other victims in the terrorist attack in Beirut.
He further pointed to General al-Hassan's role in dismantling the Zionist regime's spy networks in Lebanon, and said Israel aims to target the security and stability of Lebanon through such criminal actions.
The Islamic Republic of Iran condemns these terrorist attacks which pursue to disrupt the security and stability of Lebanon and the region and materialize the interests of the Zionist regime, the senior diplomat added.
Lebanese Interior Minister Marwan Charbel, for his part, also stressed that the Zionist regime benefits the most from such terrorist attacks.
"Lebanon needs stability more than any other time as it is approaching the election (time) now, and all people should join hands to hold the 2013 elections in Lebanon in a good manner and with success," the Lebanese interior minister said.
The blast left ten people dead and wounded dozens. It occurred in the mainly Christian district of Ashrafiya. Internal intelligence head Wissam al-Hassan was among those killed in the bomb explosion.
Following the blast in Beirut, Iranian Foreign Minister Ali Akbar Salehi blamed Israel for the terrorist attack, saying that the Zionist regime plotted to take the world's attention off its humiliation by a Hezbollah drone which penetrated deep into Israeli airspace earlier this month.
In similar remarks on Saturday, a prominent Lebanese expert also took the Zionist regime responsible for the Friday blast, calling it a plot to ignite civil war in the Middle-Eastern country.
"Israel took revenge from Brigadier General Wissam al-Hassan because of his active role in the many operations carried out to identify and arrest the Israeli Mossad spies," Professor of Beirut University Hassan Jouni told FNA on Saturday.
He underlined that the Friday blast in Beirut was meant to destabilize Lebanon and ignite sectarian strife in the country.