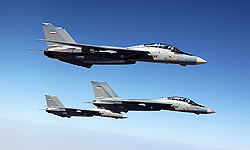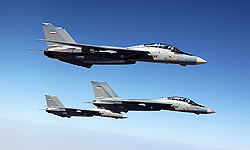 A senior commander of the Islamic Republic of Iran's Air Force (IRIAF) stressed that the country's fighter jets are now capable of conducting operations in all weather and climate conditions after new navigation systems were mounted on all Air Force fighters.
Commander of Mehrabad Air Base General Hamid Reza Godini stated that the Iranian defense industries have designed and developed new navigation systems and missiles and mounted them onto the country's fighter jets.
"To boost the combat capability of our planes to enable them to conduct fighting operations in all climate and weather conditions, we need up-to-date navigation systems and proper equipment for our fighter jets, and we have designed, developed and mounted these equipment onto our fighter jets," the commander added.
"We are now ready to fighting in all weather conditions," Godini noted.
The commander further stated that the Iranian aircraft have already been equipped with different missiles with different range.
Yet, the Air Force is seeking to optimize the range and power of these missiles in a bid to upgrade its power for confronting possible aggressive moves by the enemies, he added.
"We have taken special steps to enhance the range of our air-to-air and air-to-ground missiles and we will have some good news about an increase in the range of missiles and some modifications and great changes in the missile systems of our fighter jets," the commander stressed.
In February, a senior Iranian Air Force commander said that the country's experts have managed to upgrade a home-made 2,000-pound (900 kg) smart bomb to boost its range.
"The precision tools of the Qassed-3 smart bomb and its operational range have been extended to hit targets precisely," Deputy Commander of the Islamic Republic of Iran Air Force (IRIAF) Brigadier General Aziz Nasirzadeh announced at the time.
The Iranian Army's Air Force announced in September 2009 that it has successfully test-fired Qassed 1and 2, in aerial drills over the Persian Gulf and the Sea of Oman.
Last march, Iranian Air Force Commander Brigadier General Hassan Shahsafi reminded the capabilities of the Iran-made smart bombs, including high-precision and destruction power, and told FNA at the time that Qassed 2 has a longer range than its primary version.
He also said that Qassed 1 has already been mass-produced and delivered to the Iranian Air Force.