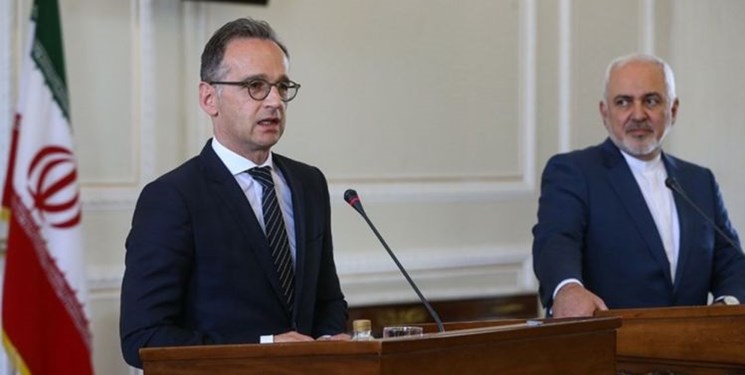 Iranian Foreign Minister Mohammad Javad Zarif in a phone conversation with his British counterpart Dominic Raab called on the European states to prepare for "constructive" talks in the upcoming Vienna meeting.
During the phone talk on Sunday, Zarif and Raab discussed the latest developments related to the nuclear deal, specially the upcoming nuclear deal Joint Commission meeting in Vienna on Tuesday.
Zarif reiterated the necessity for complete removal of the US illegal and unfair sanctions in a way that it can be verified by Iran, and said, "We will revive our undertakings if these are materialized."
He called on the European members of the nuclear deal to respect their undertakings and have a "constructive" appearance at the Vienna meeting.
Raab, for his part, underlined that his country will attempt to have fruitful talks in Vienna.
The two sides also conferred on certain mutual political and consular issues in their phone conversation.
Iran announced earlier today that the country's officials will have no talks with their American counterparts in Vienna, saying that Tehran will only hold technical negotiations with the Group 4+1 (Russia, China, UK and France plus Germany).
"In Vienna, we will not have any talks with the Americans, either directly or indirectly. We will negotiate with the Joint Commission and the G4 + 1 countries, and we will declare our demand and condition to return to the nuclear deal," Iranian Deputy Foreign Minister Seyed Abbas Araqchi said hi said, and added, "Our demand and condition is that the US should first fulfill all its nuclear deal undertakings and lift all sanctions, and then we will verify it and return (to our modified undertakings)."
He described the Tuesday talks with the G4+1 as technical, and said they will focus on the sanctions which should be lifted and the measures that should be adopted and their order and sequence, and the verifying measures which need to be taken.
"We do not have or accept any step-by-step proposal. In our view, there is no step but one that the US should take; it should lift all sanctions that were re-imposed during Trump's era or were imposed recently or re-labeled, and these should be defined, and the US should lift them, and then we will verify and revive our undertakings," Araqchi said.
"The final step that they and we have to take should be precisely specified, and it will be clear only in our technical talks with the G4+1 countries," he added.
Iran's foreign ministry had also on Saturday dismissed any step-by-step lifting of the illegal US sanctions entailing reciprocal actions by Tehran and Washington, stressing that Iran won't concede to any plan for the revival of nuclear deal except for a full removal of all sanctions beforehand.
"As has been clearly stated many times, no step-by-step plan is being considered," Foreign Ministry Spokesman Saeed Khatibzadeh said.
"The definitive policy of the Islamic Republic of Iran is the lifting of all US sanctions, whether those which Trump re-imposed after leaving the JCPOA [Joint Comprehensive Plan of Action] or those which he initiated, as well as sanctions imposed under any other title," he added.
His remarks came in response to claims made by US State Department Deputy Spokeswoman Jalina Porter, who has said on Friday that Washington would lift sanctions step-by-step in line with Iran's return to its commitments.
Also, on Friday, Zarif said the Joint Comprehensive Plan of Action Commission meeting in Vienna is due to finalize the moves needed to revive the nuclear deal, but further rejected any kind of talks with the US.
"At virtual JCPOA JC meeting, Iran & EU/E3+2 agreed to resume in-person talks in Vienna next Tues," Zarif wrote on his Twitter page, pointing to the JCPOA Joint Commission that was held virtually earlier on the day, adding that the Tuesday session will be focused on 'rapidly' finalizing the lifting of sanctions by the US.
He noted that once the sanctions are removed, Iran will stop its remedial measures.
Zarif also reacted to some reports on the US' presence in the upcoming meeting, saying there won't be any Iran-US meeting as it would be "Unnecessary".