Iran
Middle East
North America
Iranian FM leaves for New York to attend UN forum on multilateralism
Iranian Foreign Minister Mohammad Javad Zarif has traveled to the United States to attend a high-level plenary meeting of the United Nations General Assembly on multilateralism and diplomacy.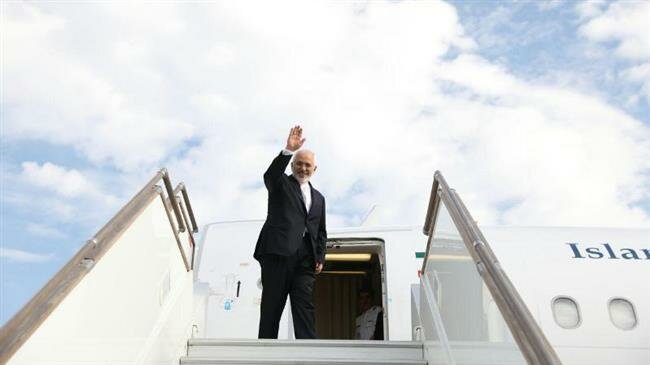 Zarif left Tehran for New York on Tuesday morning for the one-day gathering, which is scheduled to be held at the UN headquarters on Wednesday.
The forum aims to commemorate the first official "International Day of Multilateralism and Diplomacy for Peace."
On the sidelines of the event, Zarif is expected to hold several press conferences and deliver speeches at independent think thanks in New York.
Iran's newly-appointed permanent ambassador to the world body, Majid Takht-e Ravanchi, is accompanying Zarif on the trip.
The occasion was officially approved by the world body on December 12, 2018 through a resolution, which designated April 24 of every year as the day for the international observance.
The resolution says the move "is a reaffirmation of the UN Charter and its principles of resolving disputes among countries through peaceful means."
The international community also "acknowledges the use of multilateral decision-making and diplomacy in achieving peaceful resolutions to conflicts among nations," according to the resolution.
The event comes as the US under President Donald Trump has been under fire globally for brazenly stepping up its unilateral policies in dealing with different world nations, including its own allies.
Trump has been under scrutiny over the past years for going against the tide and taking a series of contentious decisions in violation of international regulations and norms, including abandoning the 2015 multilateral Iran nuclear deal as well as the Paris climate agreement, recognizing the Israeli regime's occupation of Palestinian and Syrian territories, and imposing economic sanctions against other states to advance its own agenda, among other moves.